Wherein our intrepid talk radio host interviews the Republican Stink Tank, aka Kevin McCarthy and sidekick George Santos.
ANNOUNCER
From under a rock in your backyard, it's The Jerry Duncan Show.
JERRY DUNCAN
Good morning listeners nationwide. Is it a good morning? We'll soon find out. Today on the show my guests are Republican House Majority Leader Kevin McCarthy and his sidekick New York Congressman George Santos, leaders of what's become known as the Republican Stink Tank.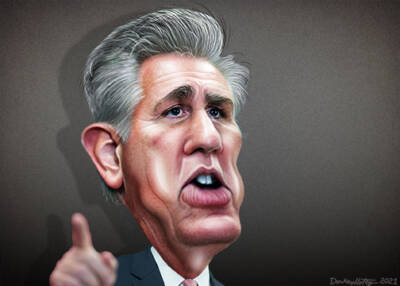 KEVIN MCCARTHY
Let me make it perfectly clear. President Trump did bear some responsibility for the January 6 assault on our Capitol, but it was Nancy Pelosi who is to blame. She knew there was trouble brewing before the demonstration and did nothing.
JERRY
And what planet did you say you were born? You're an idiot on top of a liar.
GEORGE SANTOS
Always tell the truth, Kevin. My manager told me that when I played center field for the New York Yankees.
JERRY
Congressman Santos. I understand you were at the Trump rally in DC on January 6, 2021.
SANTOS
No. I was in the NFL playoffs. I was tight end for the New York Giants.
JERRY
You just said that you played for the New York Yankees.
SANTOS
I thought I did. Wait…it was the Mets. Sorry.
JERRY
Do you know the difference between a bucket of shit and you?
SANTOS
No.
JERRY
The bucket.
MCCARTHY
Hold on, Santos. What's with the Yankees, Mets, and Giants? You told me you were a drag queen at a club in Brazil.
SANTOS
I was. My stage name was Jenna Talia.
JERRY
Speaker McCarthy. Why are you defending this moron just to get votes passed?
MCCARTHY
His fate should be decided by the voters.
JERRY
76% of voters in Santos's district want him to resign including a majority of Republicans.
JERRY
Let me ask you something. Do you believe Joe Biden is the legitimate President of the United States? Yes or no.
MCCARTHY
Eeny, meeny miney, moe. I don't think the President is Joe.
JERRY
Get real. Biden won in an electoral landslide. He had 7 million more votes than Trump. Ballots were counted and recounted in all the swing states. The Trumpster came up empty like your head.
MCCARTHY
I base my conclusion on one thing, Duncan. Power.
JERRY
You should be humble like Mary Todd Lincoln after her husband Abe was assassinated.
MCCARTHY
Right. She ended up in a mental institution.
JERRY
Of course she did. Mary was a Republican.
MCCARTHY
We may need to replace George Santos with someone like Kanye West. A rising star in my Party. Kanye has a brilliant economic plan should he choose to run for Congress.
JERRY
What kind of plan?
MCCARTHY
He's going to put 50 Cent into the treasury.
JERRY
Kevin McCarthy and George Santos everyone. See you tomorrow.
The Jerry Duncan Show
(c) Dean B. Kaner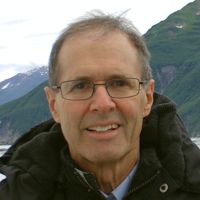 Latest posts by Dean Kaner
(see all)