A very special Thanksgiving Day Show from the parade in Wasilla, Alaska, featuring local hero and former half-term governor, Sarah Palin.
ANNOUNCER
Live from under a rock in your backyard, it's The Jerry Duncan Show.
JERRY DUNCAN
Good morning listeners nationwide. Is it a good morning? We'll soon find out. Today on the our very special Thanksgiving Day Show is my guest, the former Governor of Alaska, Sarah Palin. Both of us are Grand Marshals for the Thanksgiving Day parade here in Wasilla, Alaska.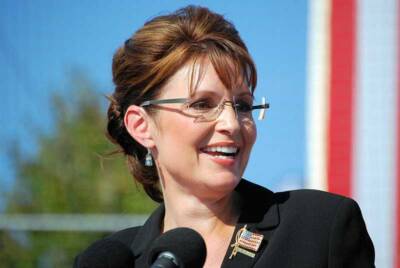 JERRY
Hello Sarah.
SARAH PALIN
Howdy Jerry. Did the committee send you the sweatshirt we're gonna wear?
JERRY
They did. What does yours say?
PALIN
It says 'Stupid.'
JERRY
Mine says 'I'm With Stupid.'
PALIN
Must be a mistake. I have my son's sweatshirt. Mine was supposed to say 'Really Stupid'.
JERRY
Good catch.
PALIN
So exciting being a sheriff for the day.
JERRY
Grand Marshal. There's a difference.
PALIN
I know something about law enforcement. When I was mayor of Wasilla, me and the sheriff found a torso with no arms, legs or head in back of an alley.
JERRY
Were you able to make an identification?
PALIN
No. Frankly, we was stumped so I named it Stumpy.
JERRY
I forgot you were the mayor of Wasilla.
PALIN
Yep. One of the first things I did was get rid of the library.
JERRY
Aren't books supposed to enlighten our minds?
PALIN
That's why we have Fox News. No need to waste money.
JERRY
In 2006, you became the Governor of Alaska.
PALIN
I drilled for oil like a banshee woman. Drill baby drill. Alaska was so rich that I bought a bunch of icebergs from Bernie Madoff. Never got em. We was robbed.
JERRY
Out of all the people, Senator John McCain picked you to run with him in the 2008 presidential election.
PALIN
A no brainer. I'm a woman with lots of Spanx, spunk. Whatever.
JERRY
You're the reason McCain lost to Obama. Nicole Wallace prepped you for the Vice-Presidential debate and she said you couldn't remember anything.
PALIN
Didn't matter. The people don't elect U.S. presidents, God does. Lots of people liked that zinger during the campaign. Second to only Obama palling around with terrorists.
JERRY
You don't read books, but you wrote one.
PALIN
Going Rogue: An American Life. You betcha. Gonna make a movie some day from the book. I want Arkansas Governor Sarah Huckabee Sanders to play me and her husband Colonel Sanders to play my ex-hubby Todd.
JERRY
Colonel Sanders is the Kentucky Fried Chicken guy.
PALIN
Trust, but verify. I know one thing for sure. If it wasn't for KFC, we wouldn't have celebrated the 4th of July parade in Wasilla in 2000. Someone in the high school band stole the drumsticks, and the drummer had to buy some at KFC. The drum was finger lickin good.
JERRY
People want to know what you're up to these days.
PALIN
I'm trying to start a Civil War. God doesn't like Democrats.
JERRY
Do you know the difference between God and a Republican?
PALIN
Let me check Wikipedia.
JERRY
I'll save you time, Einstein. God knows He's not a Republican. Sarah Palin on our annual Thanksgiving Day Show, everyone. See you tomorrow.
The Jerry Duncan Show
(c) Dean B. Kaner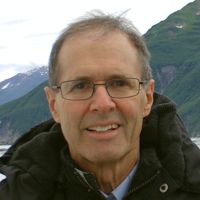 Latest posts by Dean Kaner
(see all)