Bill O'Reilly vs Jon Stewart: A Rock 'Em Sock 'Em Robots battle for the ages
What do you get when you match up Jon Stewart, the most watched and most liberal comedic host verses Bill O'Reilly, the conservative, brash host of the most watched opinion show on cable television? A Rock 'Em Sock 'Em Robots battle for the ages! To prepare for their much anticipated October 6th pay-per-view Internet debate, learn all there is to know about funny man Jon Stewart and the exuberant, one-of-a-kind Fox host Bill O'Reilly in "Political Power: O'Reilly Stewart 2012."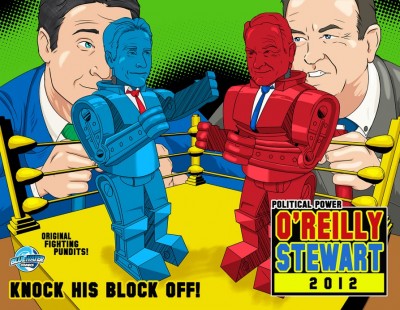 As the creative force behind the award-winning satire news program "The Daily Show," Jon Stewart has become known as "the most trusted man in America." Stewart was able to overcome adversity at a young age to rise to host of a perennial Emmy winning show that ironically has more influence than most of the shows it satirizes. His challenger, Bill O'Reilly, also overcame humble beginnings to become a best-selling author and the most famous pundit on TV today. His style has become legendary and some of his on-air confrontations infamous. Read all about these dueling hosts before their live debate airs on October 6th.
"When we heard about the upcoming debate at Bluewater, we thought it would be a fun opportunity to showcase our bios in a commemorative graphic novel as a companion to the showdown," Darren G. Davis, President of Bluewater Productions explained. "Political Power: O'Reilly Stewart 2012" gives the reader an informative look into the lives of these influential political personalities."
Bluewater Productions burst onto the political scene four years ago with the introduction of their highly acclaimed biography series "Political Power." Hailed by CNN, Time, The Huffington Post, etc. as delivering intelligent, unbiased looks into the lives of some of today's most important societal figures, Bluewater Productions is the number one bio-comic producer on the market. Past releases include "Political Power: Barack Obama," "Political Power: Mitt Romney," "Political Power: Colin Powell," and "Political Power: Joe Biden."
"Political Power: O'Reilly Stewart 2012" was written by Jerome Maida and illustrated by artists Aleksandar Bozic and Tsubasa Yozora. The exclusive, commemorative graphic novel is available now for digital download at Amazon, Barnes and Noble, iTunes, and more.
For more information, visit www.bluewaterprod.com.
The following two tabs change content below.

The
Humor Times
is the "World's funniest news source!" Sure, we like to inform our visitors, but in a playful sort of way. We believe political satire is one of the best ways to help folks let down their defenses and see things in a new light, as well as to help bring haughty leaders back down to earth. Plus, it's just plain fun! The
Humor Times magazine
(delivered to your door 12x/year) is a great way to enjoy this brand of humor, it makes a wonderful gift, and
SUBSCRIPTIONS
are very affordable!

Latest posts by Humor Times (see all)