Colbert announces the creation of the Ham Rove Memorial Fund
Stephen Colbert, of Comedy Central's Colbert Report fame, finally announced what he would do with the funds raised by a Super PAC he established in 2011, called "Americans for a Better Tomorrow, Tomorrow." He used it to run funny faux campaign commercials during the primary season which adroitly highlighted the absurdity and undemocratic nature of secret money in politics.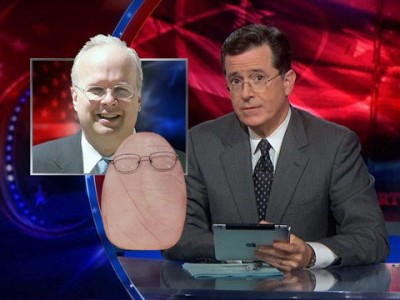 Colbert solicited contributions from the "heroes" of the "Colbert Nation" (his viewers). He also received donations from at least one corporation, through a 501(c)(4) shell corporation formed in Delaware, to which donations could be given anonymously without limit and used for political purposes. This is similar to what organizations such as Karl Rove's American Crossroads did, which funded mostly negative ads all around the country for House and Senate races, and against President Obama.
For one of Colbert's running gags on his show, he would periodically bring out "Ham Rove" as a guest. It was a canned ham, sans can, wearing a pair of wire rim glasses, like Karl Rove wears. Colbert would talk to it, as if interviewing it, and then put it away for another day. After the election, he brought the ham out one last time, and started eating it, feeding the rest to a dog.
On December 13th, Colbert announced that a nonprofit called the "Ham Rove Memorial Fund" received a donation of $773,704.83 — which just happened to be the exact amount that was left over from the Super PAC, according to termination reports filed with the FEC. The fund will be distributing donations to various non-profits.
Here is the text of Stephen Colbert's announcement:
Last month, my friend Ham Rove passed away in a very unsuspicious fashion. On the same day, Colbert Super PAC's money, $773,704.83, was squirreled away in a fashion that was extremely suspicious, but entirely legal. I thought that's the last I'd hear from Ham Rove, particularly because a dog ate him.

But Ham Rove had plans beyond his death, and I was recently surprised to find myself on the board of the Ham Rove Memorial Foundation. I was equally surprised to learn we received a $773,704.83 donation. Where did that very specific amount of money come from? There's simply no way to know.

Tonight, I am honored to announce First and Final Annual Charitable Donations by the Ham Rove Memorial Fund.

Hurricane Sandy was much like Ham Rove: Cold, cruel, salty, and the cause of untold devastation. In his honor, Donors Choose, Team Rubicon, and Habitat For Humanity will each receive $125,000 to assist with their Sandy relief efforts.

We'll also be donating $125,000 to the Yellow Ribbon Fund, which serves wounded soldiers and their families. My attempts to get a matching donation to the Blue Ribbon Fund, which serves me frosty cans of PBR, were not successful.

The remaining money will be split between two pro-transparency groups who fight against the corrupting influence of outside money in politics. Luckily, they were both fine with the corrupting influence of outside money in their offices. As per his wishes, the Center for Responsive Politics has officially renamed their meeting space "The Colbert Super Pac Memorial Conference Room." And the Campaign Legal Center will, from here on out, be home to "The Ham Rove Memorial Conference Room."

It is the highest compliment that I can pay when I say I miss Ham Rove almost as much as I miss that money. I wish he could have stayed with us a little longer. Because now I have to plan a whole new Christmas dinner.

Yours Givingly,

Stephen Colbert
Accidental Chairman, The Ham Rove Memorial Fund

Paid for by Americans for a Better Tomorrow, Tomorrow
Not authorized by any candidate or candidate's committee.