Son Tagg says Mitt Romney ran only to please him
It was bad enough they spent a king's ransom on trying to get him elected, but backers of Mitt Romney are now hearing stories of how he never wanted the job in the first place and how Romney himself had to be held back on election night as he tried several times prematurely to call Barack Obama and wish him much success in his second term.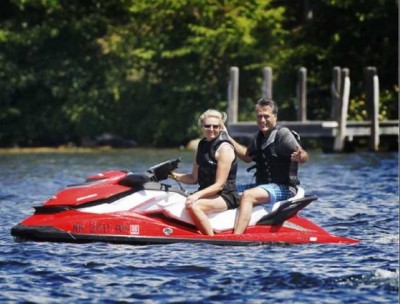 All this while Florida Governor Rick Scott was furiously using last ditch efforts to swing the state of Florida in Romney's direction.
Romney's son Tagg came out on Sunday in an interview with the Boston Globe and claimed that his father never really even wanted to run for President. Feeling a bit sorry for the prank, Tagg told the newspaper that his father's running was all his (Tagg's) fault.
"Dad's been a prankster all his life practically (we still secretly chuckle over that hair cutting incident). When the 2012 elections were nearing, we told Dad that it would be the biggest prank of his life to make the GOP think he was a good candidate," said Tagg.
"I can't tell you what was said in the various meetings leading up to my dad finally deciding to go for it, but suffice it to say, some key Republicans were left in the dark about my dad's unwillingness to actually BE President."
Tagg says at the time it seemed like the perfect prank that brought the family closer than it had ever been before.
"We were all in on it, even Mom. She was actually enjoying herself the most," said Tagg. "She would get up on the stage and laugh and smile and no one had a clue that she was laughing because she knew Mitt was going to throw the race, so to speak."
Tagg says they were rolling in the aisles in the last hours leading up to the elections watching Rick Scott scramble to take away as many voting rights as he could in hopes of Romney becoming President.
The eldest Romney also let fly a little secret that photos and videos leaked to the press that depicted his father as a bit heartless were actually just the Romney family's way of dropping little hints that no one in the family had any intention whatsoever of giving up their lavish lifestyles to live on a President's salary.
It was a hoot," says Tagg. "I never realized politics could be this much fun. We were having the time of our lives, except for the occasional photo ops with idiots like Meatloaf and Ted Nugent," he said.
"We'd have a race back to the tour bus for a quick shower to wash off what we called the "red neck."
Newt Gingrich, however, isn't laughing.
"I knew it all along. I tried to get people to listen, to understand that Mitt Romney wasn't the man for the job; that it was all a big joke, but would they listen? Especially Shelly (Sheldon Adelson)," said Gingrich.
"Just when I had Shelly where I wanted him, a half-million shy of paying off my Tiffany's credit card," here comes old Mr. Prankster being his usual self. Did he care if I could possibly end up on the wrong end of an Obama welfare plan? Not in the least," said a furious Gingrich on Face the Nation Sunday, who didn't hold back his palpable dislike for the former GOP Presidential Candidate.
Meanwhile, Romney's running mate Paul Ryan, when asked, said he knew nothing of the charade.
"All I know is that when I was running for Vice President, they called my positions on certain matters wonky and they continue to call my position on the fiscal cliff wonky. I want to know where the hell the word "wonky" came from and what the hell does it mean?"
Latest posts by P. Beckert
(see all)