While we wish we could say the economy is just humming along, we can't so, why not just join our Fiscal Cliff sing along instead?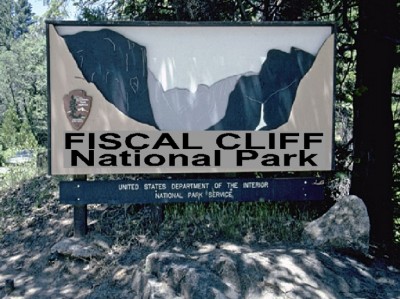 Oh no, Oh no (Hi ho, Hi ho)
Oh no, Oh no
It's over the cliff we go
No deal was struck
We're outta luck
Oh no, Oh no, Oh no
Oh no, Oh no,
Our taxes are gonna grow
We're in a pinch
Please, someone flinch
Oh No, Oh No…
Seal, Seal, Seal the Deal (Row, Row, Row Your Boat)
Seal, seal, seal the deal
Quickly as you can
Hurry, hurry, hurry or
The shit will hit the fan
It's Beginning to Look a lot Like Deadlock (It's Beginning to Look a lot Like Christmas)
It's beginning to look a lot like deadlock
On the Senate floor
Take a look the President's face
He's not in a pretty place
The Tea Party is headed out the door…
Boehner's Turn to Cry (Judy's Turn to Cry)
And now it's Boehner's turn to cry,
Boehner's turn to cry,
Boehner's turn to cry-ay-ay,
Cause Johnny can't get, Johnny can't get
A deal…
Seal the Deal (Let it Snow)
Oh the President's on the floor,
As milk prices begin to soar,
He's making this one last spiel,
Seal the deal, seal the deal, seal the deal.
Bye, Bye the American Dream (American Pie)
So bye, bye the American dream
Your home is in foreclosure
And your bankbook's a scream
Republicans and Democrats all alike
Sayin' we won't have a deal by tonight…
The following two tabs change content below.
P. Beckert's is one voice vying for frequency room at the top of the opinion dial. Angered and bewildered by many of today's events, P. Beckert uses humor as a tool to fight an onslaught of stupidity and ignorance that seems to permeate the airwaves and pollute the sensitivities of a once-brilliant nation. If you like her posts, become a follower and leave a comment. And don't forget to share on Facebook, Twitter and other social accounts! Syndicated from her
I Said Laugh, Dammit
blog.
Latest posts by P. Beckert (see all)