The more subscriptions you order, the more you save!
The Humor Times is celebrating its 22nd Anniversary by making it easy to spread the laughter! Our Anniversary Subscription Sale has been extended through the end of May!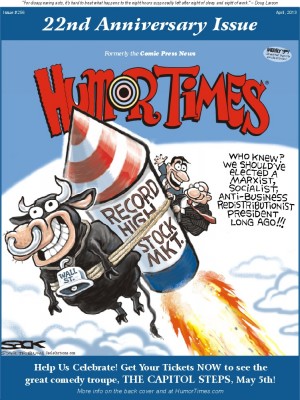 It's so good, that the Humor Times Subscription Special has been attacked as "overly generous" by top economists!
Yes, for every regular U.S. gift subscription purchased, the Humor Times discount increases by one dollar per gift, up to $4.00.
For example, say an enlightened, generous person – such as yourself! — who realizes the prodigious value of political satire, such as that found in the Humor Times – gives four or more subscriptions, thus elevating the mood of four lucky people all year, making them incredibly thankful and forever indebted to the giver.
Well, that big-hearted person would receive an amazing $4.00 off of each gift subscription!
But you'd better hurry, the offer expires soon!
Check out our Secure Subscription Form here, and enter "AnnivHT" (without the quotes) in the Discount blank.
The Humor Times began in April 1991 as the Comic Press News. Since then, we have published 256 issues, once a month, that skewer politicians of all stripes with glee, because, hey, it's funny, and besides, they deserve it.
Each issue contains the very best of the latest national editorial cartoons, arranged by subject matter and strung together with funny quips that help narrate a particular news story. It's kind of like a current events Mad Magazine.
Then, we sprinkle in some great political humor columns by Will Durst, Jim Hightower, Argus Hamilton and more, and add a section of our original "fake news" pieces, Onion style.
There are also some funny non-political cartoons to lighten things up, and much more. If you enjoy political humor, you should be subscribing to the Humor Times!