"How can you make any money giving such great subscription deals?" asks one incredulous economist
Top economists questioned the sanity of Humor Times newspaper executives during a business conference today, saying the political humor monthly was being "overly generous" with their new Anniversary Gift Discount Special, good through April 30, 2013.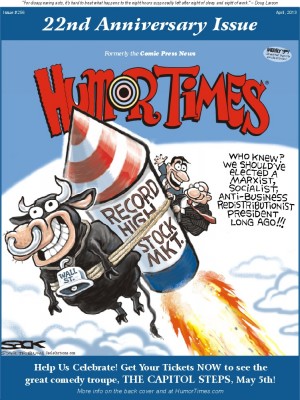 Reportedly, for every regular U.S. gift subscription purchased, the Humor Times discount increases by one dollar per gift, up to $4.00. "It is unwise – you just can't give increasing discounts and stay in business," said Artemis Ledger, a respected economic consultant.
Mr. Ledger explained the discount this way: "Say a generous person – who realizes the prodigious value of political satire, such as that found in the Humor Times – gives four or more subscriptions, thus elevating the mood of four lucky people all year, making them incredibly thankful and forever indebted to the giver.
"Well, that big-hearted person would receive an amazing $4.00 off of each gift subscription! They'd better hurry, the offer expires soon."