Quicksand ruins family vacation, girl's memories
New Smyrna Beach, FL – Tragedy marked the beginning of Memorial Day weekend in New Smyrna Beach, when late Saturday afternoon, a van belonging to an Indiana family of six suddenly disappeared into what was apparently some quicksand, leaving no trace.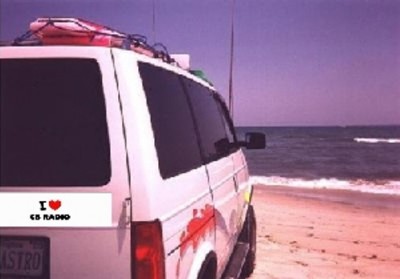 As onlookers watched, the family tried frantically to save their family vehicle from becoming entrapped in the bowels of the beach. Fortunately, no family members were in the van as it was swallowed up by the fast-moving sand.
Even the family dog, Gonzo, an adorable Cairn Terrier, was spared an agonizingly slow death as one family member caught him by the tail and "pulled like hell" as he watched his specially-equipped Chrysler Caravan sink from view into the mysterious quicksand.
"Gonzo almost bought the farm, or in this case, the beach," said Samuel "Sam" Lindner from Indianapolis, Indiana, father and proud owner of the van.
"He's a tough one though. He loves having his tail tugged on, and in this case, it saved his life."
Mindy Linder, 16, was inconsolable as she realized her most prized possession in the whole world, a diary that held all her secrets, a diary she had been keeping since the age of 12, was lost along with the van.
"All my memories are gone forever," Mindy whined as she recalled how she had just finished writing an entry about the two Puerto Rican boys known only to her as Chico and [the] Man, both 17, who had lavished unusual attention on her as they cavorted (not her word) in the surf, a happy threesome making some very special memories that Mindy says are now lost forever.
"I told the boys I'd be right back and ran to the van. I didn't want that moment to slip away, and so I wrote furiously about every detail, finished with my trademark, 'smooches' and then put the diary in my backpack and went back for more fun with my new-found local friends."
Witnesses say it happened so fast, they didn't even realize the van was sinking until they saw the bright orange tennis ball at the tip of the CB antenna fall below the surface.
Lifeguards were quick to move the onlookers and curious gawkers off the beach and away from the quicksand area, and called 911 and then Jim Cantore, who, to folks along Florida's coasts, is the man to see when severe weather events take place.
Fortunately, the Lindner family has relatives living close by in Orlando, and will be spending the remainder of their vacation there while making arrangements to rent a car and drive back to Indiana.
Sam Lindner was devastated.
"That van was my whole world. I'd go out at night to the local 7-Eleven parking lot and sit there well into the wee hours chatting on the CB to my friends. And now that is all gone."
Asked for one parting statement, Sam simply said "See ya on the flip flop."
The following two tabs change content below.
P. Beckert's is one voice vying for frequency room at the top of the opinion dial. Angered and bewildered by many of today's events, P. Beckert uses humor as a tool to fight an onslaught of stupidity and ignorance that seems to permeate the airwaves and pollute the sensitivities of a once-brilliant nation. If you like her posts, become a follower and leave a comment. And don't forget to share on Facebook, Twitter and other social accounts! Syndicated from her
I Said Laugh, Dammit
blog.
Latest posts by P. Beckert (see all)