Journal entry: August 5, 2008 (age 39) – Onstage
As an actor, most of the roles I've landed have been comedic.  I don't have the looks to be a leading man, so I've always contented myself with supporting roles – roles that are often silly or eccentric.  In Arsenic and Old Lace, I played Dr. Einstein, the craven second banana perfected by Peter Lorre in the film version.  In A Miracle on 34th Street, I was the drunken Santa Claus who gets fired so that Kris Kringle can get hired at Macy's.  You get the idea.  If the part calls for a weirdo or goofball, I have always been the go-to guy.
Don't get me wrong – I love comedy.  In fact, much of my career has been based on writing, performing, and teaching it.  But I also love drama, and even tragedy.  When I have had the chance to direct, I have consistently chosen much more serious, heavy plays that explore the dark side of my creativity.  The Elephant Man, The Woman in Black, and Bent are a few examples.  Bent deals with the horrific treatment of homosexuals in the Nazi concentration camps.  It doesn't get much less knee-slapping than that.
But as an actor, I have been happy to continue playing roles like Dogberry, the idiotic constable in Much Ado About Nothing.  That was last summer's Shakespeare in the Park production, staged by the Endicott Performing Arts Center.  When the director of that show, Brett Nichols, called me about this summer's upcoming production of Othello, I reviewed the list of characters, and expected to be offered the small role of "Clown."  I was pleasantly surprised when Brett said that he had me in mind for Iago.  Iago is the largest role in the play, and arguably the greatest villain in all of Shakespeare.  He's a brilliant and manipulative sociopath with a taste for bloody revenge.  In other words, he's an actor's dream.
So for the next two weekends, I get to forgo my usual seltzer-spraying slapstick, and sink my teeth into cutthroat villainy.  Looking back on the past few years, I can see a trend toward this darkest of roles.  Penny Powell, artistic director at the Cider Mill Playhouse, was the first to see me filling the nice shoes of a bad guy.  In fact, she's cast me as a scary or evil character in my last three shows at the Mill:  as Major Ross, Sherlock Holmes' murderous nemesis in The Crucifer of Blood, as the chained apparition of Jacob Marley in A Christmas Carol, and as Babe Connor, the thuggish bully in Love and Anger.  I don't know whether this trend means that Penny likes me or hates me, but it's been great fun.
With my newfound chops as a baddie, I'm looking forward to future roles.  I could write a one-man show about Hannibal the Cannibal becoming a motivational speaker for supervillains, and call it The Lecter Lectures.  I could play all Twelve Angry Men.  I could use my renowned Pol Pot impression to develop a new take on Richard III.  Yes, my range has expanded.  But could it be wider yet?
Oh, to be Juliet – just once.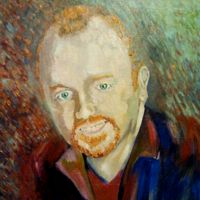 Latest posts by Tim Mollen
(see all)