Now you can watch your own kids "breaking bad"
NEW MEXICO — Somewhere in the quiet suburbs of Albuquerque, set against the backdrop of the Sandia mountain range, a small confectionery is "breaking bad." Again.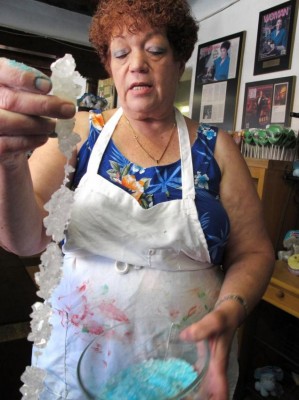 The same store that brought your kids the beloved blue meth candy is proud to announce the Build-Your-Own Meth Lab Game (expansion kit available — for ages 6 and up).
The store's name is The Candy Lady, and it's owner, Debbie Hall, is the original supplier of "blue meth" to AMC's hit show Breaking Bad.  Not only is she more than pleased with the recognition provided by the show, Debbie is very excited about the impact her expanding business is having on local youth.
"My goal isn't just money," Ms. Hall said quite matter-of-factly.  "I hope to educate kids — not only on the business side of methamphetamines but on the complex processes as well.  The show does a great job with some of this but they don't really give kids the how-to on the production side.  All you Chemistry and Econ teachers out there can thank me later."
The Meth Lab Kit for Kids is an exact replica of the top-of-the-line laboratory used by the main characters, Walter White and Jesse Pinkman (only on a miniature scale).  And it comes with detailed instructions on both how to assemble the lab and, eventually, on how to make your very own "crystal blue".
"And the fun doesn't stop there!" effused Ms. Hall.  "The kit also shows them how to set up a business model for the sale of their candy; everything from the division of labor to distribution to laundering money — it basically takes your kid all the way from chemist to kingpin."
Though Debbie started out small, she continues to dream big.  In the coming months, she hopes to partner with a costume shop in town and offer child-sized hazmat suits.
"Safety first, definitely.  The kids should be learning that safety is key — especially in this line of business.  We don't want them growing up being called Phosphine Gas Face do we?"
The following two tabs change content below.

Jeff Boldt is an English teacher living in China and the writer and editor of
Iron E-News
, a website dedicated to that ever-abiding alternate bizarro world -- at times all too closely mirroring our own.

Latest posts by Jeff Boldt (see all)