Political satire is all the rage these days: Give a subscription to the Humor Times!
Sure, you could use the same tired old gift ideas again this year: socks, ties, handbags, widescreen TVs. Okay, a widescreen TV would be pretty cool. But why not supplement it with some great political satire, in the inexpensive, yet fun form of a subscription to the Humor Times?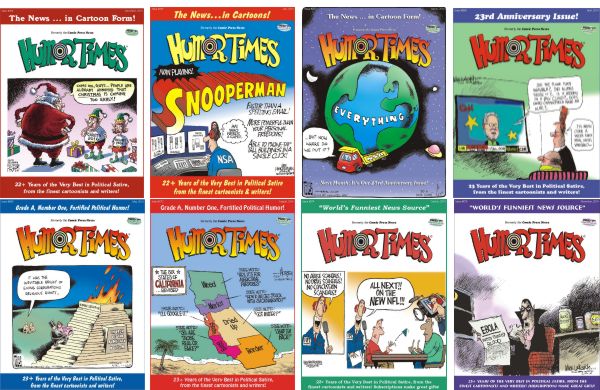 We'll even send you a gift card you can put in their stocking, or we'll mail it directly to them.
Political satire is very popular these days, what with shows like The Colbert Report and The Daily Show on Comedy Central, satirical websites galore, punchy tweets and all the rest.
So, why not give 'em what they want?
Besides, The Colbert Report will soon be gone, what with Stephen Colbert going to CBS to replace David Letterman on the "Late Show" — so your friends will need to fill that hole somehow, and you can help!
The Humor Times monthly magazine is packed with tons'o'fun each issue: We've include the best collection of editorial political satire cartoons you'll find anywhere, arranged by subject and strung together with a narrative that gives the feel of a news report. Then, we add humor columns by some of the best, led by five-time Emmy Award nominee and recipient of 7 consecutive nominations for the American Comedy Awards Stand Up of the Year, Mr. Will Durst. We also shoehorn in a page of "fake news" stories, ala The Onion, some non-political cartoons, and much more.
Intelligent political satire appeals to people who like to keep on top of the news, yet also enjoy a good laugh. And let's face it, there's enough bad news out there, so we need a little comic relief.
Not into printed publications anymore? No problem! The Humor Times is available in digital format — at half the price of print!
So, this year, show 'em how smart you are — and how smart you think they are. Give the gift of laughter — give the Humor Times!
And if you think this is a good gift idea, why not share this post, to help us spread the good cheer?
Thank you very much!
The following two tabs change content below.

The
Humor Times
is the "World's funniest news source!" Sure, we like to inform our visitors, but in a playful sort of way. We believe political satire is one of the best ways to help folks let down their defenses and see things in a new light, as well as to help bring haughty leaders back down to earth. Plus, it's just plain fun! The
Humor Times magazine
(delivered to your door 12x/year) is a great way to enjoy this brand of humor, it makes a wonderful gift, and
SUBSCRIPTIONS
are very affordable!

Latest posts by Humor Times (see all)