Journal entry: September 14, 1980 (age 11) – Parish Picnic Party People

I'm always sorta fidgety at Mass, but this morning, I was fidgetacular. I squirmed in my seat during a particularly long letter from St. Paul. Couldn't he just send a postcard once in a while? "Galatians, Soaking up the rays in Crete. Haven't felt this good since road trip to Damascus. See you soonish, probably after I give the Corinthians the what for (again!). P.S. Don't do anything I wouldn't do!"
After Mass, I ran ahead of my parents to the parking lot, where the St. Thomas Aquinas parish picnic was getting started. I slowed to a walk once I saw some other kids. I didn't want to seem too excited to be back on the grounds of the elementary school I graduated from way back in June. (Middle-schoolers don't play Hill Dill.)
But I was excited. Having never been to one, I didn't know what a parish picnic would be like. It could have been a bunch of Eucharistic Ministers sitting in a circle and eating potato salad on a checkered quilt. Instead, hundreds of people from the West Side of Binghamton were eating, playing games, and listening to music. Dad came back from a folding table with a handful of numbered tickets for us to use as some kind of picnic pesos. It was early, so most people were lined up at the tables that were selling hamburgers, hot dogs, and pizza. I took the opportunity to beat the crowd and hit the dessert circuit. I got a funnel cake, two brownies, and a Fresca. Then I cleansed my palate with a huge, torch-like serving of cotton candy that made me look like the Statue of Gluttony.
That got me revved up for the games. I met up with one of my buddies, Peco Hull, and we both put in a poor showing in the potato sack race. But we hit our stride in the three-legged race. We didn't win, but we achieved our personal goal, which was to run into and topple as many of our Siamese competitors as we could. Two younger girls, Andrea and Colleen Mathis, gave a satisfying, stereo shriek as they crumpled in a heap. Our pastor, Father Mulranen, was headed towards us with a scowl on his face when he suddenly changed course to fire the kid who was playing "My Sharona" on the makeshift sound system.
Peco and I went on to be the first team eliminated from the water balloon toss, and I feel somewhat responsible. As soon as I was handed the water balloon, I purposely threw it onto the pavement at Peco's feet. He would have done the same thing if they handed it to him first. He did just that minutes later, soaking Mike McNally (who's younger than us, so he totally deserved it).
Like all the kids at St. Thomas', I love Father Mike Bassano, who is younger and cooler than I thought priests were allowed to be. I spent the late afternoon listening to him play guitar and harmonize with his brothers, Ted and Paul. "The Cannoli Brothers," as they called themselves, sang "Tom Dooley," "Blowin' in the Wind," and "Michael, Row Your Boat Ashore." As darkness started to fall and volunteers folded chairs, they closed their impromptu set with "Puff the Magic Dragon." That song always makes me sad, but especially today.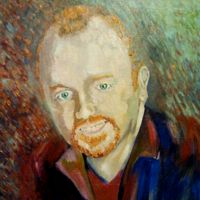 Latest posts by Tim Mollen
(see all)