New apps that could change your online habits in radical new ways.

By Daniel Kahn
Do you ever get tired of habitually checking your mobile phone notifications 3 minutes before you brush your teeth in the morning? The excitement over the social internet doesn't seem to be tapering down anytime soon, but that doesn't stop a lot of people yearning for the days before they were addicted to their iPhones and Instagram feeds.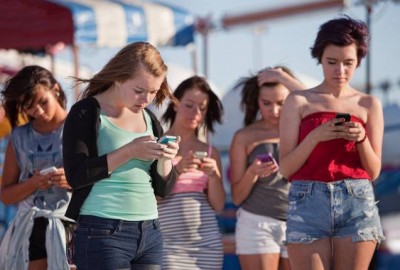 The computer app "Freedom" has gotten a lot of coverage for addressing this by allowing its users to "lock down" their laptop so that it's impossible to connect to the internet without rebooting, helping its users to be more focused and happy while using their technology. "But what if I don't want to switch off the internet?" you ask. "What if I want to be able to do the exact same stupid things on my digital gadgetry, just without being miserable all the time?"
Well, lo and behold, modern technologists have come to our rescue again. Here are are 6 new apps that take exciting new approaches to revolutionizing the way you hate your technology.
1. Uncomplish: In our world of endless online distractions, many task management apps try to help you be more more efficient by monitoring your progress on must-do items for the day. "Uncomplish," however, takes a radically different approach: it tracks and awards you points from every moment you're not reading or watching something with any practical or life-enriching significance. Currently compatible with most major social networks, all-caps venting in the comments feeds of CNN articles, and Youtube videos involving Nicki Minaj's butt, the app has attracted a large user base of people who are tired of feeling hated on for their perpetual unproductivity.
"In high school I got picked on for spending all my free time on my computer," says David Cohen, one of the few users whose achieved "Less Value to the World than Malaria" status. "I feel like 'Uncomplish' has validated my life's worth of being completely worthless to everybody."
2. Genitly: Overuse of social networking has been linked to depression, largely because seeing glamorized images of other peoples' lives can cause our own to feel like comparative shit. "Gentitly," through its proprietary image enhancement technology, attempts to solve this in a way that's truly revolutionary: pasting images of unmaintained genitalia onto the faces of those that appear in your social networking feed.
Don't want to think about your ex-college roommate's stud fiancee? That's easy when said fiancee is kissing her with a large vagina where his mouth used to be.
How about your high school classmate starting a billion dollar company? At least he's giving his grand-opening IPO speech to a bunch of hairy ball sacks.
Genitly's initial settings allowed only unmaintained vaginas and testicular regions to be set as defaults, images which some say is discriminating against those who prefer their own junk au natural. However, the app now allows for an "unwiped buttocks" default image which has received much less controversy.
3. That's Private, Bitch!: A lot of people are concerned about the temptations of over-sharing on the internet, especially when it's so easy to get fired because of a wrong tweet. "That's Private, Bitch!" is a social network add-on that allows you to set privacy settings so that people who you don't want to view selected regions of your profile will see a large icon with the aforementioned aphorism plastered over them.
A premium feature allows you to set privacy features not only for individuals, but also to larger corporate entities. "Of course we're still selling all your private personal information to those entities," says 24-year-old That's Private, Bitch! founder Mark BergzucklSolenburg. "But at least you get the pleasure of telling the corporations how you feel about it. That's got to count for something, right?"
4. StinkedIn: StinkedIn is a network aimed for employers and job-seekers seeking a more "authentic" professional exchange – specifically, one in which other people don't omit their level of B.O. from their profile. "Throughout our hiring process, we often found that people were able to really create this fake persona through their online profile, highlighting skills that they don't actually have and using 'recommendations' from friends to cover up an overall lack of competence or work ethic. But more importantly, not indicating how much they reek in person," says one prominent CEO we talked with to discuss their use of the app. "StinkedIn has helped us to foster a better hiring process based on appropriate levels of odor."
5. Bum: Bum is the new hobo-sharing app designed for those travelers frustrated with Uber's expensive "Surge" pricing. In locating a homeless person in close proximity to you offering a very affordable piggy back ride to your destination of choice, some labor advocates claim the app risks abusing its bums, who don't receive the typical job benefits that a union-protected employee might receive. But 19-year-old Bum founder Mark Bergenzuck insists that he's providing a world-changing service by allowing the homeless to share their otherwise underutilized deltoids.
"Oh I love the idea," says one hobo on the street who we asked for comment. "Of course there is one slight problem that if I could actually afford a smartphone to use the app, you know… MAYBE I WOULDN'T BE FUCKING HOMELESS IN THE FIRST PLACE. EVER THINK OF THAT, MARK?" Bergenzuck couldn't be reached for comment.
6. Fuckr: Unlike like Tinder and Grindr, initially marketed as casual dating apps for people craving nothing more than unattached sex, "Fuckr" actually lives up to its name: you literally just swipe a button until you end up fucking someone. "All these other apps pretend to be a sex app, but by the time you actually message someone back and forth three times and meet them in person, there's always the potential for connection," says 11-year-old Fuckr founder Mark Zucker-Berger, currently enrolled in Dover Community Middle School. "Through our complex algorithm we've done something physically impossible: literally removed all between steps, so that there's virtually a zero second time lapse between the swiping of your finger and the initiation of coitus." Still, some have criticized the app for still requiring a finger swipe at all, saying it would be more optimized if the fucking just happened prior to even having to wait for the app to open.
Says Zucker-BergerZuckerberger: "We're working on that."