"Politicon" is a nonpartisan comic-con style event for politics and entertainment.
LONG BEACH, CA — Attendees at this weekend's Long Beach Comic-Con were treated to a cosplay flashmob performance by past performers of "So You Thing You Can Dance" to promote the upcoming
"Politicon," a nonpartisan comic-con style event for politics and entertainment.
Politicon will feature panels, debates, TV & movie screenings, live radio, podcasts, comedy shows, Q&A's, book readings, interviews, meet & greets, art exhibitions, and musical performances.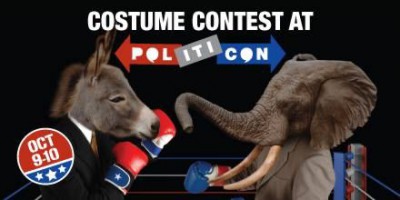 In true fandom fashion, and with Halloween just around the corner, Politicon is encouraging attendees to get into the spirit of democracy and show their colors for a chance to win cash prizes. Come dressed as anyone from Uncle Sam to Donald Trump to a hanging chad for your shot at a piece of the American Dream. Everyone who arrives in costume on Saturday, October 10th will get free admission into the event.
Politicon claims to have "something for everyone," from a discussion between Newt Gingrich and James Carville to a Q&A with David Axelrod or a screening of The Yes Men's latest film. You can also watch Hugh Hewitt chat live on his radio show with his special guests, see a live broadcast of The Young Turks, and meet members of The Daily Show.
Politicon is a two day entertainment filled political festival that aims to bring together Republicans, Democrats, independents and non-partisans "for comedy and conversation, debate and dialogue, for backstage messaging and onstage music." The stated goal is to bring together all those who love politics, but who want it to be more than listening to boring talking heads on a 24 hour news network.
At the heart of Politicon, say organizers, is the idea that politics can and should be entertaining and interesting. It is for longtime political junkies and those just getting interested in advance of the 2016 elections.
The festival features not just the elected officials and experts of Washington DC, but also the TV and film stars of Hollywood. While politics is the art of the possible, Politicon is committed to showing a new generation the possibilities of getting involved in the process.
Check out the LBCC Flashmob below.
The following two tabs change content below.

The
Humor Times
is the "World's funniest news source!" Sure, we like to inform our visitors, but in a playful sort of way. We believe political satire is one of the best ways to help folks let down their defenses and see things in a new light, as well as to help bring haughty leaders back down to earth. Plus, it's just plain fun! The
Humor Times magazine
(delivered to your door 12x/year) is a great way to enjoy this brand of humor, it makes a wonderful gift, and
SUBSCRIPTIONS
are very affordable!

Latest posts by Humor Times (see all)