Latest comic book bio features Bernie Sanders, not Donald Trump!
In honor of the start of the presidential primary season and on the heels of last month's successful release of comic book biographies of Jeb Bush, Rand Paul, Hillary Clinton, and Donald Trump, StormFront Entertainment (not affiliated in any way with the white nationalist group) announced today the release of a biography featuring political powerhouse Bernie Sanders titled "Political Power: Bernie Sanders."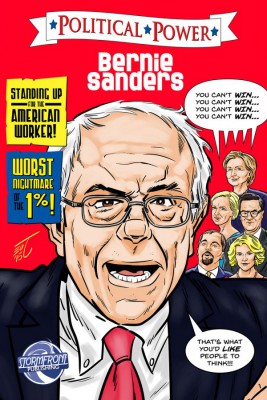 The biography of Sanders joins biographies and profiles of Chris Christie, Joe Biden, Jeb Bush and the Tea Party Movement. Later this fall, biographies of Elizabeth Warren, Marco Rubio, Rick Perry, and Ted Cruz are scheduled. As the presidential race matures and changes, other titles will follow, exhibiting the full length and breadth of the current field of candidates.
StormFront Entertainment promises an interesting take on Sanders, as evidenced by the solicitation: The longest serving independent member of Congress in American History, the unassuming senator from Vermont is a supporter of the middle class who vows to end the toxic partisan divide in Congress. A grassroots-level groundswell of support has catapulted Sanders into the national spotlight, forcing his competitors to, "Feel the Bern!"
Illustrated by longtime StormFront contributor Joe Paradise, who drew the Hillary Clinton, Rand Paul, and Jeb Bush biographies, found Sanders interesting enough to write the series as well.
"I'm sorry, Mr. Trump, but the Sanders campaign is the most interesting story of this campaign season," says Paradise. "Bernie Sanders represents something the average American has, without exaggeration, never seen before in politics. Even in full campaign mode, and with all the knives being pointed at him, he refuses to go negative. Even after that "Correct The Record" Hillary SuperPAC email went out, basically linking Bernie Sanders to Hugo Chavez and Jeremy Corbyn, Sanders didn't punch back. He expressed some mild surprise at the source of the attack, but immediately got right back on message. Can you imagine how Trump would have handled that situation?"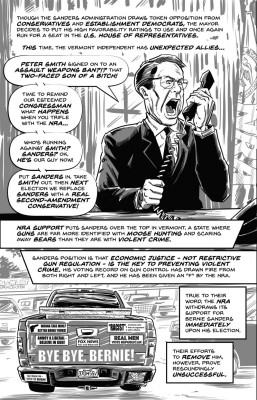 Editor Michael Frizell, Paradise's collaborator on the Clinton, Paul, and Bush projects, says, "Working with artist/writer Joe Paradise is an editor's dream. His passion for the project is evident in the depth of research he conducted and the care he took in crafting a superior story. I think readers from both sides of the political aisle will enjoy this story, but be careful! If you're not a fan of Bernie, you will be after reading this comic."
Since 2008, The "Political Power" and "Female Force" series have spotlighted over 60 politicians, leaders, and influential cultural icons. According to StormFront Entertainment president Darren Davis, the company strives to maintain a certain "journalistic feel" with their titles.
"The goal here is not to proselytize for one party, one candidate, or one point of view. If we are to be successful, we need to balance our stories and provide an even-handed look at our leaders and the process by which they govern…warts and all," Davis said. "These books are a good example of how a comic book can be entertaining and educational."
Print copies of the titles start at $3.99 and can be ordered at Comic Flea Market via their website.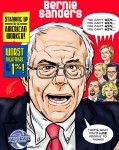 StormFront's large catalog of titles can also be downloaded on Scribd, EPIC!, Madefire, ComiXology, DriveThru Comics, Google Play, My Digital Comics, Overdrive, Iverse, iTunes, Kindle, Biblioboard, ComicBin, Nook, Kobo and wherever eBooks are sold.