Rob Rogers Cartoon Gallery
Click on any Rob Rogers thumbnail to enlarge, then you may browse through cartoons, run the slide show or return to gallery.
Despite being born in Philadelphia and spending ten years in Oklahoma (through no fault of his own), Rob Rogers considers himself a true Pittsburgher. His work has become a staple of Pittsburgh culture while also receiving national play.
After graduating from Carnegie-Mellon University with a master's degree in fine arts, Rogers was hired in 1984 as staff cartoonist for The Pittsburgh Press. It became the Pittsburgh Post-Gazette in 1993.
And from Rob Rogers' own website:
Rob Rogers is the award-winning editorial cartoonist for the Pittsburgh Post-Gazette. His cartoons have been vexing and entertaining readers in Pittsburgh since 1984. Syndicated by United Feature Syndicate, Rogers' work also appears in The New York Times, The Washington Post, USA Today, the Humor Times and Newsweek, among others.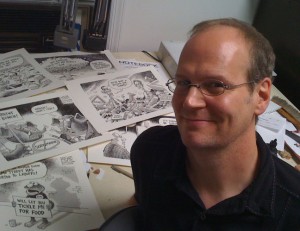 Rogers has also been the curator of three national cartoon exhibitions, Too Hot to Handle: Creating Controversy through Political Cartoons (2003) and Drawn To The Summit: A G-20 Exhibition Of Political Cartoons (2009), both at The Andy Warhol Museum, and Bush Leaguers: Cartoonists Take on the White House (2007) at the American University Museum. Rob Rogers is an active member (and past president) of the Association of American Editorial Cartoonists. His work received the 2000 Thomas Nast Award from the Overseas Press Club, the 1995 National Headliner Award, and numerous Golden Quills. In 1999 he was a finalist for the Pulitzer Prize.
In 2009, Rogers celebrated 25 years as a Pittsburgh editorial cartoonist with the release of his book, No Cartoon Left Behind: The Best of Rob Rogers, published by Carnegie Mellon University Press.
He is currently serving as board president of the ToonSeum, a cartoon museum in Pittsburgh, Pennsylvania.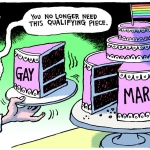 To see more of our extensive collection of professional cartoonists' work, visit our Political Cartoons sampler, our political Cartoon Galleries, non-political Single Panel Cartoons and our International Political Cartoons sampler. If you like to draw, you may want to submit a cartoon to our User-Created Amateur Cartoons page. If you'd like to try your hand at captioning cartoons, check our Cartoon Caption Contest.
Check out our Funny Videos gallery as well, our humor columns, and of course, our own fake news stories by various authors.
Enjoy, and please use the share buttons below to share with your friends, family and co-workers. Thank you!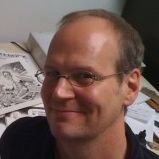 Latest posts by Rob Rogers
(see all)