ANNOUNCER
Live from under a rock in your backyard, it's The Jerry Duncan Show.
JERRY
Good morning listeners nationwide. Is it a good morning? We'll soon find out. We have three special guests, comprising today's think tank: Vice President Mike Pence, former Governor of Minnesota Jesse Ventura and producer and writer Woody Allen. Welcome gentlemen.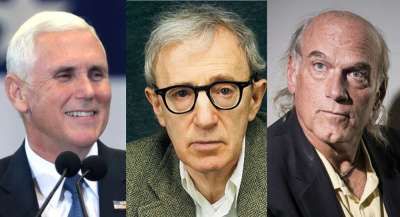 JERRY
Today we are going to talk about our government in chaos. Is it, Mr. Vice President?
PENCE
Not at all. Let me say that the state of the union has never been better. Under this president, the unemployment rate is at 4 percent, people are seeing more money in their paychecks and our military is stronger than ever.
JERRY
Same question to you Governor Ventura.
VENTURA
Trump sucks. There's Russiagate and Bimbogate. He has a bromance with Vladimar Putin and had a romance with playmate Karen McDougal while he was married to Melania. Not to mention hanky panky with porn star Stormy Daniels at the same time.
WOODY
Do you think I could set up a play date with Karen and Stormy? I like intelligent women.
JERRY
You wouldn't know it, little man. Your favorite pick up line is "Say dada."
WOODY
Now I have to see my shrink, you creep. Lots of things are going through my head.
VENTURA
Get over here four eyes. I'll tweak your head so that all you'll be thinking about is your pain.
PENCE
Jerry, the Bible says you must remove the evil people among you.
VENTURA
Are you talking about me, Penster?
PENCE
Yes I am.
VENTURA
Woody and Jerry, do you know why Mike Pence picks his nose?
JERRY
Humor me.
VENTURA
Because he's the boogeyman.
PENCE
I am honorable. I don't even look at other women.
JERRY
That's too bad, because Stormy Daniels called yesterday and told me she wants to spank you.
PENCE
Oh my. What would my wife Karen think?
JERRY
About looking at another woman?
PENCE
No. About being spanked when I didn't do anything wrong.
WOODY
To your question about the government being in chaos. We need to have better relationships with our international partners. Trump needs to quit calling heads of state nasty names. Do you know Soon Yi and I have to grow our own rice because of the tariffs Trump imposed in March? Our backyard looks like Vietnam.
VENTURA
Hey, I live in Mexico.The tariffs are so high, I can't afford soybeans for building my muscles. And when I'm mad, I become wild and out of control.
WOODY
Just like when you were Governor of Minnesota.
Ventura grabs Woody by the neck.
WOODY
Yikes!! Take it easy, I'm wearing glasses.
A crunching sound is heard.
VENTURA
You were wearing glasses.
PENCE
Stop! The Bible says you shall love, not hate.
VENTURA
We'll the Bible also says that "they saddled his ass and rode him out of town."
PENCE
Who's they?
VENTURA
See these two fists?
PENCE
Bible lesson over.
JERRY
There's lots of scandals, Penster. Explain how Secretary of Treasury Steve Mnuchin, the idiot without a vowel in his last name spent $25,000 of taxpayer money for a military flight from New York to Washington DC. Or the time he and his wannabe actress wife took a military flight to Fort Knox to examine all the gold bars like King Midas.
WOODY
No honor among thieves. Just ask Dr. Ben Carson who was going to spend $31,000 of taxpayer money for a dining room table set until he got caught.
VENTURA
If that isn't bad enough, there is proof that the Trump organization took gifts from foreign dignitaries staying at the Trump International Hotel.
PENCE
I can explain. First, Steve Mnuchin is really Steve Munchkin. His grandparents changed the spelling after they came to America from the Land of Oz. Second, Steve needed a secure phone for his flight to Washington DC because he was making a movie deal for his wife. Third, he visited Fort Knox so he could count all the gold bars. Just to make sure nothing was stolen by the Democrats. Fourth, Dr. Ben Carson said his wife is dyslexic and thought the dining room table set was $31. An honest mistake. Don't you think?
VENTURA
See my middle finger?
JERRY
Collusion and obstruction of justice against Trump are being investigated by Special Counselor Robert Mueller in the Russia probe. Three administration officials have pleaded guilty to working with the Russians. Paul Manafort, Trump's former campaign manager has been charged with conspiracy.
PENCE
No need to press the panic button. If the president resigns or is impeached, I'll be in charge.
WOODY
What? Women won't be able to wear dresses that show skin. No more swear words without being fined. They'll be religion taught in school.
PENCE
Who said all that?
WOODY
You did.
PENCE
Oh.
VENTURA
The only way to end the current chaos is for me to go to the White House and have a wrestling tournament. He who wins the championship becomes the next president.
JERRY
Great idea.
WOODY
Yes.
PENCE
Who will I wrestle?
VENTURA
You're looking at him, Pillsbury dough boy. Everybody has to go through Jesse 'The Body' Ventura.
WOODY
Call 911. The Penster just fainted.
JERRY
See you tomorrow everyone.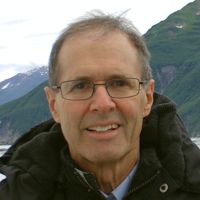 Latest posts by Dean Kaner
(see all)