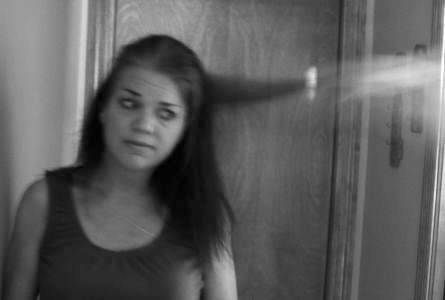 It has just been reported that Chris Hansen, the man behind the news show Hansen Files seen Friday evenings on Dateline NBC is, most likely, possessed by the devil, who priests say entered his body during the taping of an upcoming expose on exorcisms.
"Something went horribly wrong," claims Father Francois Dubois, a Catholic priest who claims he has presided over more than a hundred exorcisms in his lifetime. Father Dubois was visiting Hansen at an undisclosed location in order to conduct an exorcism on the news anchor as soon as possible.
Dubois claims that earlier this week he was heading up an exorcism at the home of a West Virginia mother who claims her daughter was possessed. Little did he know that the man standing beside him pretending to be a fellow priest was none other than expose extraordinaire, Chris Hansen, who had been secretly filming the entire exorcism.
An aide to Hansen claims that Hansen had always been skeptical of demonic possessions and had wanted to do an expose on the practice of exorcisms for quite some time. He (Hansen) had caught wind of the exorcism being done in Charleston, West Virginia and decided to go out there and do some undercover investigating.
"Unfortunately, Mr. Hansen found out the hard way that demonic possession is nothing to dismiss lightly," said the elderly priest, who assured us that Mr. Hansen's will be an easy exorcism.
Asked how he knew, Dubois said "Oh hell, devil's already been inside that fellow a few times and just can't seem to stomach it in there for too long. I'm just gonna help the damned process along this time so I can see Hanson's face when he realizes he's been the victim of one of his own undercover operations."
Ed. Note: After witnessing Father Dubois' propensity toward cursing, a separate investigation was launched into the elderly priest's credentials. So far, the results are inconclusive.
The following two tabs change content below.
P. Beckert's is one voice vying for frequency room at the top of the opinion dial. Angered and bewildered by many of today's events, P. Beckert uses humor as a tool to fight an onslaught of stupidity and ignorance that seems to permeate the airwaves and pollute the sensitivities of a once-brilliant nation. If you like her posts, become a follower and leave a comment. And don't forget to share on Facebook, Twitter and other social accounts! Syndicated from her
I Said Laugh, Dammit
blog.
Latest posts by P. Beckert (see all)