Sure, you can find "The Great Gatsby" in your local library. But may run into a lot of interesting food items as well.
Library patrons often bring coffee, candy or chips to the library where I work to snack on. But some of our patrons nosh on more surprising things. Here are a few of the food items librarians tell me they've recently found in their libraries:
Sardines.
A full bottle of vodka chilling in the toilet tank in the men's room.
A box of fruit snacks, shelved like a book.
A can of artichoke hearts.
A bottle of real ketchup mixed in with the containers of pretend food in the junior room's play kitchen.
Trail mix in the computer keyboards.
A banana in the book drop.
A slice of cheese being used as a book mark.
A bag of chopped broccoli.
"The other day we found a plugged-in croc pot cooking something in the lobby. It smelled amazing."
"We once had a patron plug in a blender and start making herself a smoothie. She was flummoxed when we told her that she couldn't do that."
A pile of onion peels on the floor by the cookbook section.
An empty Cool Whip container in the teen room with three spoons in it.
An entire rotisserie chicken on the counter in the bathroom.
Half a can of Vienna Sausage in a ficus tree.
Chicken bones under the chair cushions.
A large uneaten pizza sitting on a table in the quiet study section. We don't know how it got there and nobody ever claimed it.
A cabbage sitting on the shelf in the travel section.
A bowl of Fruit Loops.
A pineapple.
You can come to the library to sate your hunger for knowledge. Or your hunger for cheese, artichoke hearts and Fruit Loops. Either way, we'll always be happy to see you.
(Roz Warren is the author of Our Bodies, Our Shelves, a Collection of Library Humor.)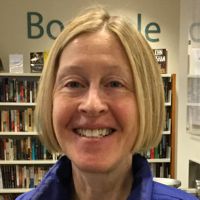 Latest posts by Roz Warren
(see all)