Wherein our intrepid talk radio host interviews Rachel Maddow and Sean Hannity.
ANNOUNCER
Live from under a rock in your backyard, it's The Jerry Duncan Show.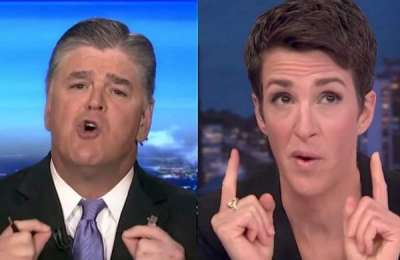 JERRY
Good morning listeners nationwide. Is it a good morning? We'll soon find out. Today my guests are television hosts Rachel Maddow and Sean Hannity.
RACHEL MADDOW
Hi Jerry.
JERRY
Hello Ms. Maddow.
MADDOW
Rachel, please.
JERRY
And Mr. Hannity.
SEAN HANNITY
Sean.
MADDOW
No, Lumpy—he hates the name.
HANNITY
Hey Rachel, did you steal that suit you're wearing from Boy George?
JERRY
Okay, truce. Ladies first.
MADDOW
Go ahead, Sean.
HANNITY
I'm going to humiliate you on Hannity. Keep it up.
JERRY
Rachel. When you were in high school, you described yourself as a cross between a jock and the antisocial girl. What does that mean?
MADDOW
I was on the high school swim, volleyball and girls basketball teams. Loved sports. But I discovered books and became a nerd instead. Ended up at Stanford.
HANNITY
That's where the liberals hang out.
JERRY
How about you, Sean?
HANNITY
I couldn't handle college so I became a painter.
JERRY
Oh. Are you a connoisseur of the great masters?
MADDOW
Sure he is. Masters and Johnson, Dutch Masters, Mastercard.
HANNITY
Okay, Duncan. I was a house painter for five years.
MADDOW
And he didn't think he'd finish painting the house.
HANNIY
Shut up, loser.
HANNITY
Then I framed houses.
JERRY
You framed more than that, fella.
HANNITY
What do you mean?
JERRY
How about taking the proceeds from the country music Freedom Concert charity event in 2003? The IRS and FTC issued a complaint alleging that you falsely promoted a scholarship fund for children killed or wounded in war.
HANNITY
Obama did it. Just ask my attorney Michael Cohen. Would he lie?
JERRY
Hey Hannity, you're Irish. What's the difference between an Irish wedding and an Irish wake?
HANNITY
No clue.
JERRY
One less drunk.
MADDOW
Thank you for sharing that with us.
JERRY
Speaking of sharing, I understand you had a cordial relationship with Fox New Channel CEO Roger Ailes.
MADDOW
I did. Roger was nice enough to give me technical help on getting an advantage over my competition.
HANNITY
I'm your competition! Unbelievable, Roger wanted me to fail.
JERRY
Ha, ha, ha. And after all the years that you sucked up to Mr. Five by Five.
HANNITY
Too bad I'm not a proctologist, because I would have known Roger was an asshole.
JERRY
Forget it. Let's talk about Trump.
MADDOW
Bad man.
HANNITY
Good man.
JERRY
Garbage man. Cheated on his wives, cheated on his taxes and bragged about it, knows more Russians than the names of members in Congress, lies every time he speaks. We have video and tweets for proof.
HANNITY
Hold on runny mouth, Trump is not a politician. And yet he had the largest inauguration crowd in the history of the presidency.
MADDOW
Liar, liar pants on fire. In 2009, Barack Obama had 1.8 million. Donald Trump only 700,000.
HANNITY
Did you count the Russians watching on big screen TV in Red Square?
MADDOW
My mistake. You're right. Putin put him over the top.
HANNITY
Trump gave my people tax cuts. Err, the American taxpayer a payday.
MADDOW
You mean a payday loan. Only people that own 877 residential properties like you reap the benefits.
JERRY
Hannity. Give it up.
HANNITY
Did you know that Hillary Clinton ran a sex ring out of a pizza parlor? Here's a good one. There's a conspiracy by the Justice Department to overthrow our government.
JERRY
Nice try. Good for ratings on Fox Noise. I suppose you'll throw out the red meat that Obama was born in Kenya.
HANNITY
Thank you for the reminder. That's one of my favorite lines.
MADDOW
For all your bravado, The Rachel Maddow Show is number 1 on cable television.
HANNITY
Fake ratings.
JERRY
I don't watch your show on Fox News, but when I do it's on Comedy Central. Just a suggestion, change the name from Hannity to Insanity.
HANNITY
Let me set the record straight–I don't believe anything I've ever said.
JERRY
Hey listeners, take it from Uncle Jerry. In order to recognize bullshit, nose is better than ear. See you tomorrow.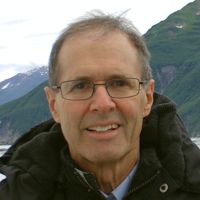 Latest posts by Dean Kaner
(see all)