Wherein our intrepid talk radio show host interviews the "Sisterhood."
ANNOUNCER
Live from under a rock in your backyard, it's The Jerry Duncan Show.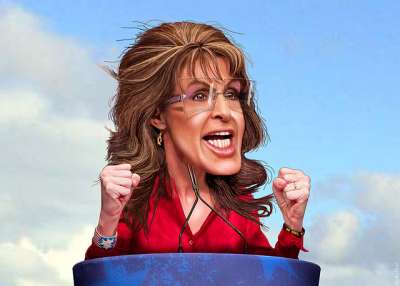 JERRY
Good morning listeners nationwide. Is it a good morning? We'll soon find out. Today on the show my guests are the "Sisterhood," former Governor of Alaska Sarah Palin, comedienne Roseanne Barr and comedienne Whoopi Goldberg.
BARR
Let me start by telling everyone that I'm not a racist. I love black people. Some of my best friends are black.
GOLDBERG
Like who?
BARR
Oprah, Omarosa, Whoopi.
GOLDBERG
That's me, you idiot!
BARR
Oh, sorry. I'm on Ambien and stuff.
PALIN
Yep. You are an idiot. Whoopi's not black, she's Jewish. The name Goldberg? Duh.
JERRY
We have a crisis at the southern border that was caused by Trump. There are families being torn apart. Children separated from their parents. Why aren't they being granted refugee status? They fled from violent gangs and coyotes in Central America.
BARR
I had my television show Roseanne cancelled and you're worried about a bunch of gang bangers? And I seen coyotes howling in my backyard. I don't complain.
PALIN
I'll protect you, Roseanne. I love shootin things. You betcha.
GOLDBERG
Well, you shot Senator John McCain in the foot when you ran with him for vice president in 2008.
PALIN
Big mouth. Weren't you Buckwheat in The Little Rascals? I thought you were funny back then.
GOLDBERG
(annoyed) Sure I was. And who were you when you were little? Rosemary's baby?
PALIN
Let me get back to ya. I need to check my birth certificate.
JERRY
The Trumpster is palling around with dictators Putin and Kim. He's clueless as to the repercussions for the United States.
PALIN
Oh, don't get your panties in a wad. I can watch Putin from my backyard up there in Alaska.
BARR
And I can keep my eye on that fat little fella Kim from my farm in Hawaii.
GOLDBERG
(sarcastic) I feel safer already, girlfriends.
JERRY
Trump stopped war games on the Korean peninsula. Now we won't be prepared for an invasion by the North Koreans agains South Korea.
JERRY
Roseanne. Put on your thinking cap.
BARR
I'm always thinkin.
JERRY
Careful now. Don't let you brains go to your head.
JERRY
Why do North Koreans hate basketball?
BARR
Because they're short?
JERRY
No. They spend 20 hours a day making them.
GOLDBERG
Ha, ha, ha.
JERRY
Okay, funny lady. Why was Cinderella thrown off the girls basketball team?
GOLDBERG
Cinderella was really a dude?
JERRY
No. She ran away from the ball.
PALIN
Explain it to me. The old noggin is on vacation.
JERRY
Here's something for you to think about. What do you call a gassy Russian?
PALIN
Hmmm. It's comin, don't rush me. (pause) A private tutor?
BARR
I was gonna say Vladimar Tootin.
JERRY
Wow! We have a three way tie. Tell the ladies what they just won, Johnny.
JOHNNY
(game show announcer voice) You will be going on a Space X rocket ship to Mars! Thanks to the innovative people at Tesla, you'll be riding first class in the nose cone of this half ton wonder. Floating lifelessly as the space ship passes your favorite stars in the galaxy.
PALIN
Hey, Johnny. Will I see George Clooney? He's a hunk.
GOLDBERG
Not as good lookin as my man, Denzel.
BARR
I like Meat Loaf.
PALIN
You betcha. Real yummy served with mashed potatoes and peas.
JOHNNY
And once you arrive on Mars. You'll be staying at the luxurious Trump Lunar Hotel. Martians rate it a five star. Donald Trump and Sheriff Joe Arpaio, who were deported from Earth have a new job of arresting illegal aliens. What a thrill watching.
BARR
I'm outta here, Johnny.
PALIN
But you won't get to see a cow jump over the moon.
JERRY
Thanks, Johnny.
JOHNNY
Wait, Jerry. I leave you with words of wisdom from our educators in America. A teacher wrote on the blackboard: "I ain't had no fun in months." Then asked the class, "How should I correct this sentence?" Little Johnny raised his hand and replied, "Get yourself a new boyfriend."
JERRY
See you tomorrow everyone.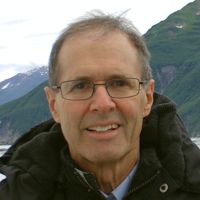 Latest posts by Dean Kaner
(see all)