Wherein our intrepid talk radio show host interviews former President Donald Trump and his former campaign manager Paul Manafort from Sing Sing prison in New York.
ANNOUNCER
Live from under a rock in your backyard, it's The Jerry Duncan Show.
JERRY
Good morning listeners nationwide. Is it a good morning? We'll soon find out. Today our show is coming from Sing Sing prison in New York. My guests are former President Donald Trump and former Trump campaign manager Paul Manafort.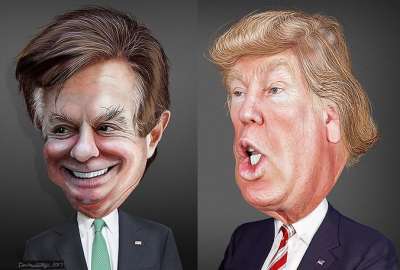 DONALD TRUMP
Prison is a beautiful thing. It's HUGE. I finally got to see my wall.
JERRY
And all your friends and enemies are here.
TRUMP
Look, you can see them. They're the guys in orange jumpsuits carrying shovels.
JERRY
So many. Ryan Zinke, Jeff Sessions, Scott Pruitt, Michael Flynn, Michael Cohen, David Pecker, Roger Stone. It's chain migration.
TRUMP
And more. There's Sloppy Steve Bannon walking with a ball and chain. He's in solitary for popping a zit in the guard's face. Steve climbed the ugly ladder and didn't miss a step.
JERRY
Where's your son-in-law Jared and daughter Ivanka?
TRUMP
Rats, scumbags! Those creeps stole my money and fled to Moscow. They're living in the Kushner Tower penthouse next to Vladimir Putin.
JERRY
Jared hacked your computer. Right?
TRUMP
Maybe. But it could have been Russia, China, North Korea or ex-Governor Chris Christie, the 400 pounder living in New Jersey.
PAUL MANAFORT
It probably was him. According to a poll, only 19% of New Jersey residents liked Christie when he left office. And they were restaurant owners.
TRUMP
Great analysis. Where were you when I needed your help from Russia?
MANAFORT
I was in the Philippines taking inventory for 20,000 pairs of shoes in Imelda Marcos's closet. I'll do anything for my clients.
JERRY
Trumpster. Where is Melania?
TRUMP
No clue.
JERRY
In Brad Pitt's mansion. She's his personal masseuse.
TRUMP
It's okay. I'm not jealous. Melania learned to work hard growing up poor on the south side of Chicago.
JERRY
That's Michelle Obama, you idiot.
TRUMP
Fake news.
MANAFORT
Brad Pitt is diagnosed with a rare cancer that necessitates the removal of his entire ass. He is now a bottomless Pitt.
JERRY
Hey, Paul Manafort. You were just found guilty of 8 counts of fraud by Special Counsel Robert Mueller. What are you going to do next?
MANAFORT
I'm going to Disneyland!
TRUMP
He's so stupid, Duncan. Manafort's password at the Trump Tower needed 8 characters, so he typed Snow White and the 7 Dwarfs.
MANAFORT
I'm only stupid because I worked on your presidential campaign.
TRUMP
Nice wig, Paul. What's it made of?
MANAFORT
Your mother's chest hair.
JERRY
Okay, Paulster. Speaking of wigs. What do you call a carrot and a potato who both wear wigs?
MANAFORT
Clueless.
JERRY
Donald Trump and Kim Jong Un.
TRUMP
You're lucky I'm in cuffs, Duncan.
JERRY
Trumpster. You have a visitor.
TRUMP
Al Sharpton, my African American.
SHARPTON
Don't get giddy. I'm here to give you the last rites.
TRUMP
Last rites? Am I going to die?
SHARPTON
Well. The warden isn't too sure, because you are being transferred to a cell with some Black brothers you and your father discriminated against when they were trying to rent apartments in Queens.
TRUMP
Bad. Very bad. Save me, Rev. Is there an alternative?
SHARPTON
Yeah. You could get a cell with the notorious MS-13 gang members. That's always fun. Too bad you messed with minorities your whole life, Trumpster. Now there will be hell toupee.
JERRY
See you tomorrow everyone.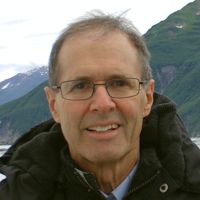 Latest posts by Dean Kaner
(see all)