Wherein our intrepid talk radio host interviews First Lady Melania Trump and former First Lady Michelle Obama.
ANNOUNCER
Live from under a rock in your backyard, it's The Jerry Duncan Show.
JERRY
Good morning listeners nationwide. Is it a good morning? We'll soon find out. My guests today are First Lady Melania Trump and former First Lady Michelle Obama.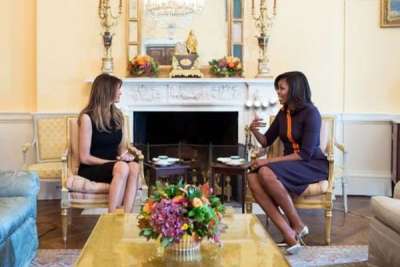 JERRY
Hi Ladies.
MELANIA TRUMP
Hi Mr. Donuts.
JERRY
It's Duncan, you idiot.
MELANIA
Sorry. Husband thought joke funny.
JERRY
Your husband is a joke, Melanoma.
MICHELLE OBAMA
Yo Dude. Wassup?
JERRY
I'm chillin.
MELANIA
I'm chillin, too. Cold in here. Remind me Slovenia.
JERRY
Michelle. What have you been up to lately?
MICHELLE
I'm on a book tour for my best seller Becoming. It's about growing up poor on the South Side of Chicago to becoming First Lady.
MELANIA
You write nasty about Donald.
MICHELLE
Yes, girlfriend. I did. You know why?
MELANIA
No.
MICHELLE
He dissed Barack. Said he was born in Kenya.
MELANIA
Knock, knock!
MICHELLE
Who's there?
MELANIA
Kenya.
MICHELLE
Kenya who?
MELANIA
Can ya show his birth certificate?
MICHELLE
That's pretty shallow even for a mail order bride.
MELANIA
Don't be mad, don't feel blue. Frankenstein ugly like you.
JERRY
Michelle. You promoted healthy foods while you were First Lady. Had your own vegetable garden on the South Lawn of the White House.
MICHELLE
That's right. We grew hot peppers, spinach, berries, lettuce. And I added a beehive to collect honey to make White House Ale. In fact, Speaker John Boehner used to get sloppy drunk. Once I found him face down in the Rose Garden crying for Nancy Pelosi.
JERRY
What's your favorite vegetable?
MICHELLE
Tomatoes.
JERRY
Melania. What's yours?
MELANIA
Husband.
JERRY
Speaking of which. I understand the Trumpster wants to deport criminals.
MELANIA
Of course.
JERRY
When is he leaving?
MICHELLE
Couldn't be soon enough.
JERRY
Melania. Your husband got rid of Obamacare and replaced it with Trumpcare.
MELANIA
Like cancer, keep cancer.
JERRY
See you tomorrow. Wait a second, Melania wants to say something.
MELANIA
Donald deporting 12 million illegals Juan by Juan.
JERRY
You lunatic. Go read The Art of the Deal. It starts at Chapter 11.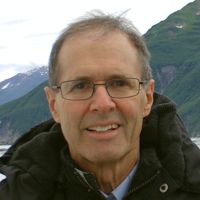 Latest posts by Dean Kaner
(see all)