'America is hungry for more, and, if selected, I promise to go at least half a season,' says Palin

Sarah Palin quieted the doubters on Tuesday, when she rolled through NBC's Today Show like an old pro. Turns out she's pretty good at this "lamestream media" stuff herself.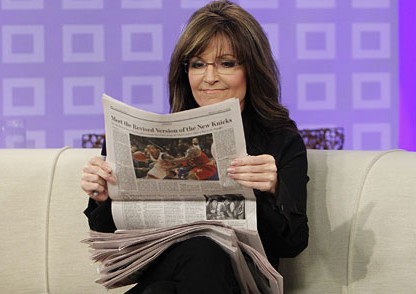 The former vice-presidential nominee squared off against her old nemesis, Katie Couric, who was hosting ABC's "Good Morning America" in the same time slot, for the week.
Although she never mentioned Couric during the show, Palin was seen by TV viewers looking through the pictures in a stack of newspapers. It was a move widely seen as a comeback to Couric's infamous badgering of Palin regarding her reading habits, when she interviewed Palin during the 2008 campaign.
"Ya, that really showed her," Palin confided to an aide just off stage during a break in the taping. "It may have taken four years, but it was worth it! I'm sure Americans will appreciate how I just punked Katie Couric and the liberal media that invited me on this show and pummeled me with softball questions!"
Palin stuck to her well-established criticisms of President Obama, saying, "Ya, that Kenyan poseur in the White House has really brought us close to the brink of socialism, what with those patriots on Wall Street and on the oil company boards barely hanging on. Yet he's still palling around with terrorists, trying to give 'em health care."
"But Barack will soon be taken down. America's Supreme Dream Team is doing their part to demolish his socialist health care, and we've pretty much settled on our not-Obama candidate, the guy who invented that health care system. So he knows how to dismantle it. It's perfect!"
"Sure, Mitt's got some drawbacks. Ah hell, say it, he's a wimp," Palin continued. "He needs my help. That's why I'm calling him 'Rockin' Romney' these days, and if he picks me to run with him, he might even stand half a chance."
Fox News felt the Palin appearance was a real coup. "Fox just infiltrated NBC," said Fox & Friends co-host Steve Doocy.
"Sure, it's only a battle, but we're winning the war. Vote Republican!" added Doocy, longtime host on the "fair and balanced" network.
Ms. Palin was obviously stoked by the experience, and ready for more.
She followed up her successful stint on Today by lobbying NBC anchor Brian Williams to host "Tomorrow." "I'm ahead of my time, so I'd be good at it. Ya, sure, you betcha!" she told him.
Informed there was no "Tomorrow Show," Palin asked, "Then what's on tomorrow? Everyone knows you can't have Today tomorrow."
"You're trying to get me with some kinda 'gotcha' trick, aren't ya, Brian?" she asked, winking.
"OK, then, how about I sub for you next?" she persisted. "I can look as good as good as anyone pretending to read the news — I proved that today!"
Prior to airtime, NBC executives were privately sweating out the half-term Alaskan governor's appearance.
"What if she quits in the middle of the show?" worried NBC president Ben Silverman. "Or pulls out her rifle and goes hunting Democrats? Or worse yet, declares her availability as a vice-presidential running mate? I don't know if the country could handle that."
It's true one of  those things did happen. But the biggest controversy to erupt was when viewers noticed she wasn't wearing her wedding ring.
The Palins have been denying rumors of a pending divorce for years now. But, as can be seen in the photo, she wasn't wearing her ring, and that got the blogo-facebook-twitter-sphere rumbling.
"No, I lost it in a moose I was skinning, just before I flew in for the show, that's all," said Palin. "Damn thing was still hungry, I recon."
"No worries, one of us will probably chomp down on it while we're enjoying the venison. Hopefully I don't break a tooth on it, that would be grounds for divorce!"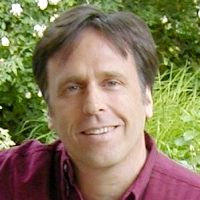 Latest posts by James Israel
(see all)