Wherein our intrepid talk radio host interviews the president's sons, Trump brothers Don Jr and Eric.
ANNOUNCER
Live from under a rock in your backyard, it's The Jerry Duncan Show.
JERRY
Good morning listeners nationwide. Is it a good morning? We'll soon find out. Today on the show my guests are the president's sons, Trump brothers Don Jr and Eric.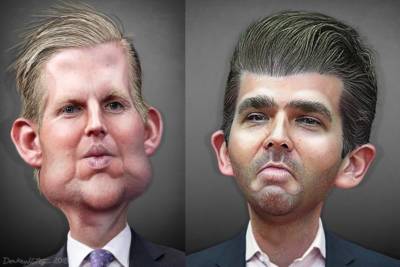 JERRY
Good morning, fellas.
DONALD TRUMP JR
I'm stupid to be on this show.
JERRY
How stupid are you, Don Jr?
ERIC
I'll tell you, Duncan. He's so stupid, the klutz tripped over a cordless phone.
DON JR
Yeah. I remember that night. Ended up in emergency with a broken foot.
DON JR
But still not as stupid as you, Bro. When you were in college, you sold your car for gas money.
ERIC
I was learning about business. Dad reported the car stolen and got insurance to fork over a check. We came out ahead on that deal.
JERRY
Eric, you're 35 years old. Both you and your sister Transylvania…
ERIC
It's Ivanka, numb nuts.
JERRY
I'll pretend I didn't hear that.
JERRY
Okay, so I missed a few letters. You three imbeciles are under investigation by the U.S. Attorney in DC for the Trump inauguration. You jacked up the prices for hotel rooms, rentals and vendors.
ERIC
We Trumps call it business.
JERRY
Like the time your 42 year-old brother over there concealed hush money payments and reimbursement checks to attorney Michael Cohen. All because your dad couldn't keep his pecker in his pants.
DON JR
You're lying.
JERRY
Why?
DON JR
He's so pudgy that there was no room in his underwear. Fake news.
JERRY
In 2016, you held a meeting at the Trump Tower with a Russian lawyer to get dirt on Hillary Clinton. You lied and said it was about adoptions.
DON JR
What can I say? I still carry around a picture of the Guatemalan kid who came with my wallet.
Donald Trump bursts through the studio door.
PRESIDENT DONALD TRUMP
Did someone say guacamole? If you got the salsa, I'll bring the tortilla chips.
JERRY
But it's Mexican. You don't like Mexico.
PRESIDENT
I don't wanna taco bout it.
JERRY
Trumpster. What do you get when you cross Speedy Gonzales with a country singer?
PRESIDENT
Have no idea.
JERRY
Arriba McEntire.
PRESIDENT
She sucks. I like that other country singer Shania Twang. Very hot, very hot.
DON JR
Do you think I should date her, dad?
PRESIDENT
It was my idea. Get out of here before I take away your allowance.
ERIC
I'm the wise son, daddy. That's why I was a judge on The Apprentice.
PRESIDENT
You're not smart, Eric. You got me in trouble when you shifted our money from St. Jude's Research Hospital to other Trump businesses. That's why I couldn't make a commercial where I hug a bunch of sick kids with Marlo Thomas. Cost me votes, cost me votes.
JERRY
What's the game plan for the 2020 campaign?
PRESIDENT
My boys and I are going to rile up the base. We have lots of themes.
JERRY
Like?
DON JR
"Four More Years Of Bullying."
PRESIDENT
I like that. Very good.
ERIC
"It's Darkness Again In America."
PRESIDENT
Definitely. What about "Bad Days Are Here Again?"
DON JR
Not catchy enough.
DON JR
I got it. "Making The World A Worse Place."
PRESIDENT
Beautiful. Our themes in 2020!
JERRY
See you tomorrow everyone.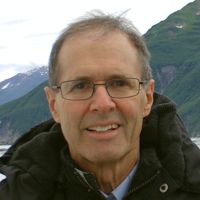 Latest posts by Dean Kaner
(see all)