Funnies Farrago reviews the penultimate Mad magazine issue, on newsstands now.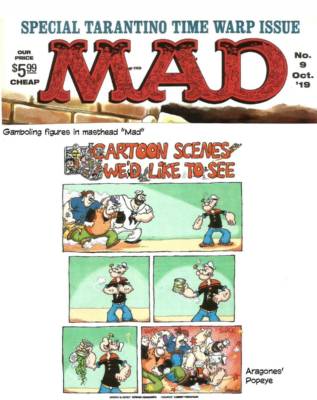 Mad No.9 (West Coast numbering) is on the newsstands. It's the penultimate Mad, the next-to-the-last issue with new material in it; after No.10, it's all reprint.
I haven't dug into Mad for years. I've picked up an occasional issue that had some sort of milestone significance — like West Coast No.1, No. 549 because of the lusty Trumpet golfer cover, and No.550 because it is advertised on the cover as "Landmark Final Issue" (i.e., the last New York Mad). "Collectors' issues," all of them. But I haven't actually read one lately.
While acknowledging that ignorance, I persist in thinking that No.9 is more and more fake advertising and diagrammatic games and the like—and less pictures in cartoon format. A chart that shows how Fox fits into Disneyland is amusing; ditto a feature called "Netflecchs!" But its pictures are not cartooning. So it leaves me cold.
On the other hand, illustrated poetry from "The Great Trump Bestiary" is fun. The pictures are comical, and so is the poetry. Here's one, entitled "The Trump":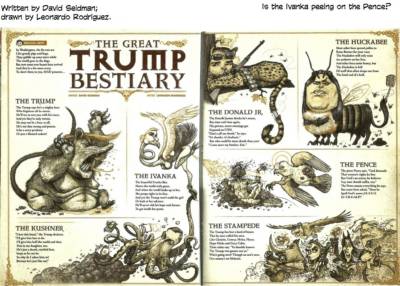 The Trump says he's a mighty bear
Who frightens all he meets.
He'll try to awe you with his roars,
And yet they're only tweets.
He may not be a bear at all,
He's not that strong and potent.
Is he a scary predator
Or just a bloated rodent?
And if you can't read on the accompanying reproduction of the verses the one entitled "The Kurshner," here it is:
"I love this beast," the Trump declares.
"I'll give him lots to do.
I'll give him half the world and then
Toss in my daughter, too.
He's just a dumb, entitled brat,
Inept as he can be.
So why do I adore him so?
Because he's just like me!"
The verses are by David Seidman, and while they're wonderfully comical, I also like Leonardo Rodriguez's pictures; so here's the two-page spread of the whole feature.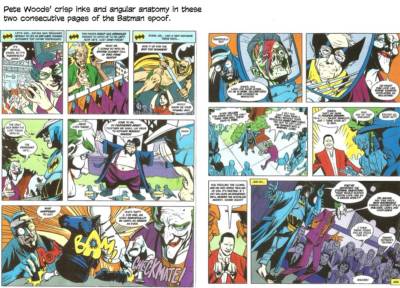 Cartooning is present. Stalwart Tom Richmond illustrates two movie take-offs, plus the cover. I'm happy to see the original Mad title lettering (with tiny figures gamboling through the letters), and there are a couple more lampoons.
Sergio Aragones, whose "marginals" have decorated the pages of Mad since 1962, is still present. Only eight marginals in 56 pages, though. But he's got a 4-page pantomime feature on vegetarians. He also wrote and drew the Popeye page strip that we see in the accompanying visual aid. It's not a tribute. Except that it is a Popeye strip in the spinach-eating sailor's 90th year.
Most of the artists except those I've mentioned are skilled professionals, but since I've seen so little of their work, I haven't had time to get attached to it. But I like Pete Woods' treatment of Batman in Arie Kaplan's story. Nice crisp inks and angular anatomy and lyrical lines.
And at least, we're spared, this time, the monotonous linework of Luke McGarry and his ilk, who never saw a flexible line that they couldn't destroy.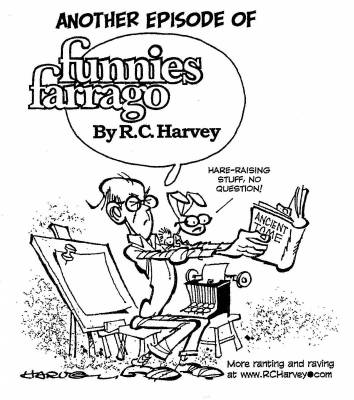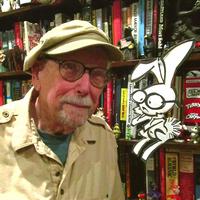 Latest posts by R.C. Harvey
(see all)