The Weather Channel aired spectacular footage of twelve tornadoes roaring through Dallas on Tuesday. It's part of a twice-a-year ritual in the Southwest. Every Christmas and April families in Texas and Oklahoma get together beneath the tree in the living room.
The Masters begins round two Friday at Augusta under weather threat of a lightning storm. Last week at Houston's Shell Open, a lightning bolt hit giant tree near a green and shattered the bark. When God watches a golf tournament, he expects to see Tiger Woods.
The L.A. County Board of Supervisors was reportedly set Tuesday to give over the Los Angeles Coliseum to USC to run and renovate. The stadium is way out of date. The first order of business would be to install a retractable roof for use during falling bullets season.
Lindsay Lohan was released on informal probation at the Beverly Hills Courthouse last week. She's down to her last chance. The judge warned Lindsay that if she breaks the law one more time she's going to be tried as an African-American male in his mid-twenties.
MSNBC host Lawrence O'Donnell said Mormonism was invented by a guy whose wife caught him in bed with their maid. How silly. If that were true the business card for Arnold Schwarzenegger would read movie star, governor and head of the Mormon Church.
Mitt Romney won all three GOP primaries in Wisconsin, Maryland and the District of Columbia. There's no scandal in his life. Hustler publisher Larry Flynt was forced to offer a million dollars for naked photographs of someone who's been fired by Mitt Romney.
Homeland Security announced it'll grant Unlawful Presence Waivers to illegal aliens Tuesday. They must prove they have relatives in the U.S. Everyone in Britain and Ireland with an ancestry app on their cell phone is sitting at an airport gate waiting to fly stand-by.
President Obama held an Easter prayer breakfast at the White House Wednesday. A local pastor showed up wearing a hoodie to protest racial profiling. The pastor was lucky to make it into the building alive because the Secret Service works for the property.
The Justice Department was ordered Tuesday by the Fifth Circuit Court to write a three-page paper admitting the Supreme Court's right to overturn unconstitutional laws. The administration got a quick a tutorial on separation of powers. When President Obama had Churchill's bust removed from the Oval Office, no one knew he replaced it with Mussolini's.
Mitt Romney was the victim of an April Fool's joke by staffers on Sunday when he emerged from behind a curtain to address a breakfast and no one was there. It didn't faze him. He just assumed that last week he fired all his supporters to make the campaign more profitable.
Mitt Romney was flooded by running mate suggestions Wednesday after his primary sweep. He knows what he wants. He said he's looking for someone with his values, someone who can remodel his vacation home in La Jolla as a way of putting Americans back to work.
Virgin Airways asked the U.S. to expedite airport security and passport processing to ease the Easter travel crush. The airline is popular. Virgin Airways nearly went bankrupt during its first year because nobody wanted to board an airline that doesn't go all the way.
President Obama warned Tuesday the GOP-proposed budget will starve two million mothers and their children. People actually believed him. He added that bridges will fall, and now half the country won't drive over a river and half won't touch corn on the cob.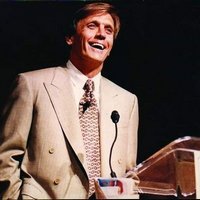 Latest posts by Argus Hamilton
(see all)