Wherein our intrepid talk radio show host interviews Fred Rogers of "Mister Rogers' Neighborhood."
ANNOUNCER
Live from under a rock in your backyard, it's The Jerry Duncan Show.
JERRY
Good morning listeners nationwide. Is it a good morning? We'll soon find out. Through the magic of a hologram, live from heaven my guest is Fred Rogers of Mister Rogers' Neighborhood.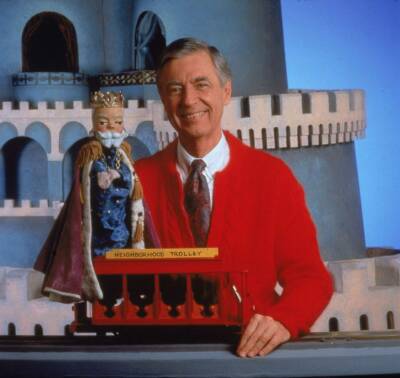 FRED ROGERS
Won't you be my neighbor?
JERRY
Hell no. I like it here on earth.
ROGERS
Boys and girls. Mister Duncan used a bad word. What does hell mean? It means doing an interview with the devil on The Jerry Duncan Show.
JERRY
Okay, Smarty-pants. Why will you never see Satan in an Armani suit?
ROGERS
I don't know.
JERRY
The Devil Wears Prada.
ROGERS
Mister Duncan cracked a funny, boys and girls. Let's put our hands together and clap. Yay!
JERRY
I'll pretend I didn't hear that. Okay, Freddie. You have a long career on television.
ROGERS
Mister Rogers' Neighborhood ran for 34 years. We covered many topics like death, sibling rivalry, divorce.
JERRY
Fine and dandy. But you have a dark side.
ROGERS
What are you talking about? I'm perfect.
JERRY
You're a lifelong Republican.
ROGERS
Oops. Boys and girls. Mister Rogers made a boo boo. Remember the sound of a gasser after you eat baked beans? We must always apologize.
ROGERS
Okay, Mister Duncan. I'll atone for my past. Can I show you my favorite sock puppets? Republican Congressman Jim Jordan and Democratic Congressman Adam Schiff.
JERRY
Bring it on.
Rogers puts the Jordan puppet over his right hand and the Schiff puppet over his left hand.
ROGERS
I call Congressman Jordan, Mister Mean. And Congressman Schiff, Mister Nice.
MISTER NICE
You are a bad, bad man, Mister Mean. Defending the Trumpster after he bribed Ukrainian President Zelensky.
MISTER MEAN
You lie, Mister Nice. Trump gave military aid to the Ukrainians. No mention of Joe and Hunter Biden.
MISTER NICE
The aid came after he was caught by the whistleblower.
MISTER MEAN
The whistleblower didn't make it to work the past 2 days.
MISTER NICE
How would you know?
MISTER MEAN
He was Snow-den.
MISTER NICE
I better call him.
MISTER MEAN
I tricked you, Mister Nice. Now I know the identity. It's the American spy Edward Snowden.
MISTER NICE
That's right. He's protected in Moscow by Putin, who is in cahoots with Trump. But Snowden turned state's evidence against the president in the end. Now I can perform a lobotomy on you with the help of Mister Rogers.
MISTER MEAN
I don't have a brain. I'm a sock puppet. Help. Help!! Can anyone hear me?
MISTER NICE
I can. Ha ha ha ha ha.
ROGERS
End of show.
JERRY
Mister Rogers. You are a brilliant gas bag.
ROGERS
Thank you. I have to catch a trolley. I'm late for work.
JERRY
What do you do up there?
ROGERS
I make a list of all the people on earth who are naughty and ice.
JERRY
Kind of the Santa Claus of the pearly gates. Am I naughty or nice?
ROGERS
It's a secret, Mister Duncan. Right now, I have bigger fish to catch. Just remember the old Chineses proverb. Be kind to pigeons. A statue might someday be made of you.
JERRY
Do yourself a favor, Freddie. Buy a new sweater. And lose the tie and sneakers.
ROGERS
Won't you be my neighbor?
JERRY
Let me sleep on it. See you tomorrow everyone.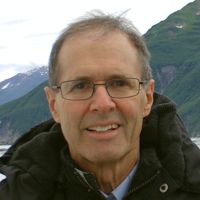 Latest posts by Dean Kaner
(see all)