Kit Lively has been a writer and cartoonist for MAD, National Lampoon and many other publications for many years.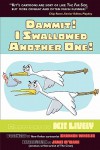 His strange, twisted sense of humor sets him apart from other cartoonists, and certain panels make you almost feel guilty for laughing. But laugh you will!
The book is available from the publisher, Better World Books, and of course, Amazon and all the rest, and comes from publisher Bear Manor Media.
Besides MAD and National Lampoon, Kit's cartoons and humorous writings have been published by Cracked, Jo Bob Briggs, Troma, Too Much Coffee Man, The Door, most of the HUSTLER publications, Swank and many others.
"No-holds-barred raunch-out humor is best served cold, and Kit Lively brings it on at dry-ice temperature… extremely funny…" — Bob Schrieber, "The Joe Bob Report."
"Everything that made us laugh when we were fourteen, and everything that makes us laugh today." — Joe Bob Briggs
"Remember the good old days when cartoons used to be funny? Kit is proof that the good old days are still here. A Sherman Tank of humor." — Shannon Wheeler, New Yorker cartoonist, creator of Too Much Coffee Man
"Kit Lively's cartoons have been determined to cause brain damage in lab rats. I can think of no higher praise." — Scott Nickel, MAD magazine cartoonist
"There are gags here that genuinely make me laugh out loud… but then comes the guilt." — Noel Anderson, Hustler cartoonist and morning radio show personality
"Without doubt, the best gag-writer in the business today!" — Diego Jourdan, comic book artist Ghostbusters, Teenage Mutant Ninja Turtles
"Dark, twisted and very funny. Kit's cartoons make me laugh out loud and feel uncomfortable at the same time." — Dale Ashmun, Psychtronic Video
"Kit's humor is insane! My hat is off to him." — Jay Lynch, The Garbage Pail Kids, Wacky Packages
"Hip, twisted and laugh out loud funny!" — Bruce David, editor Hustler magazine
Some cartoons by Kit Lively:
Kit is one of MAD magazine's Usual Gang of Idiots, and contributes (along with strip creator Scott Nickel) the regular comic strip feature The Dork Side to MAD. His cartoons have also been published by National Lampoon, Joe Bob Briggs, Medical Economics, Troma Entertainment, Hustler, SmartAlex Greetings and many other even less reputable places. He lives in Dallas, TX with his wife Julie and their two slightly smelly dogs.