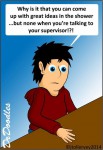 Hello, my name's Jon ...and I've just finished my PhD after following my head into academia, although sometimes I wish I'd listened to my heart and stuck with the cartoons! However, I have a dream (I'm sure I've heard that line somewhere before) and that's to find a job where I can combine the work that I'm doing, with the drawings that I love. Thankfully, 'theHumorTimes' has given me the opportunity to take a step closer towards achieving this goal by allowing me to present Dr Doodles to you, as it's my take on student life, which for better or for worse, I hope you recognise... ...and enjoy!
For an introduction to all of the characters (including their weekly blog posts!), please check out my website at:
www.findaphd.com/student/drdoodles
I'd also love to hear from you too! If you have any ideas for Ste and the gang, then please let me know - seriously, you tell me what you want them to do and say, and before long they'll be dispensing and acting out your own nuggets of student inspired wisdom!? And please feel free to be as a funny, positive, serious, cynical or opinionated as you like... You can contact me on
[email protected]

Dr Doodle Cartoon Gallery Click on any Dr Doodle thumbnail to enlarge, then you may page through cartoons, or click on image to return to gallery.