Journal entry:  May 23, 1991 (age 22)
In my middle school days, I stayed up late every Friday night to watch Second City Television, or SCTV.  The show starred such comedy masters as Eugene Levy, John Candy, Catherine O'Hara, and Rick Moranis.  I worshiped them for their rich original characters, pitch-perfect impersonations, and razor-sharp satire.  Along with many of the stars of Saturday Night Live, they had earned their comedy wings at the Second City Theatre in Chicago or Toronto.  Second City is the birthplace of improvisational comedy, which is an unscripted humorous performance based on suggestions from the audience.  For years it has been my goal to move to Chicago after college and study with Second City's Improv Conservatory.
But as I began my senior year at SUNY Oswego last fall, I realized I hadn't done any improv outside of dramatic exercises in acting classes.  I needed to get onstage and try improv before I started making major life decisions based on the abstract idea of it.  So I set about forming a "band" of comedians.
With a solid troupe of seven in place, we needed a name.  I was looking for something bold; something that would make people say, "What in God's name is THAT?!"  Inspiration struck when my roommates and I threw a "70s Flashback" party in our dorm suite.  Jennifer Arnold, my friend and a member of the troupe, brought some vinyl Shaun Cassidy records to the party.  She relayed how she and a friend had fought over Shaun as children.  They resolved the issue by agreeing that one of them would grow up to marry Shaun, while the other married Joe Hardy, Shaun's character on TV's The Hardy Boys.  Jennifer's unabashed affection for this washed-up teen idol struck me first as pathetic, then as genius.  If there was a name with guaranteed kitsch and pure "what the?" value, this was it.  That night we became "The Shaun Cassidy Fan Club."
Since then, we have been performing on campus every Saturday night.  Each performance begins with "A Reading from the Book of Shaun," in which I read a short excerpt from the 1978 publishing bonanza The Shaun Cassidy Scrapbook, by Connie Berman.    My favorite section includes this public relations gem:  "Little more than a year ago, few people had ever heard of Shaun Cassidy…Today, the name Shaun is as much a household word as Fonzie or Barbarino."  We spend the rest of the show trying to make up something funnier than that.
Last Saturday was a good night.  We did a spoof of The Arsenio Hall Show, and skewered Vice President Quayle.  For our final skit, my friend Russ Finley asked the audience, "Why am I not wearing glasses?"  They replied that he did not have ears.  The ensuing scene was somewhat muddled, but was apparently coherent enough to earn the praise of a reviewer in today's edition of the Syracuse Post-Standard.  He wrote, "[They] weaved the response into a lighthearted look at the limitations of sight and sound that eventually led to a profound look at the nature of control."
Yeah, man, we totally meant to do that.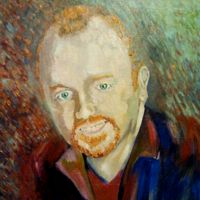 Latest posts by Tim Mollen
(see all)