The White House softball team played a game against a lobbyist group for marijuana legalization Friday. What a great match-up. Inside sources reveal that the president's team lost by twenty-two runs, which was a huge victory for the White House softball team.
China's space agency announced Wednesday they launched the first Chinese woman into space. The Chinese government made no mention of when they are bringing her back. No one exactly knows how much they penalize people for having more than one child.
Dallas starring Larry Hagman as J.R. Ewing had huge ratings for TNT when the sequel debuted Wednesday. Everyone noticed the numbers. It's a bad sign for Obama's campaign when seven million viewers tune in to watch ruthless Texas oil men calling the shots again.
President Obama went over Congress's head to change immigration law Friday. Only one thing explains this. Bill Clinton must have advised President Obama that only by getting impeached before the election can he rally Democrats to turn out and vote for him.
President Obama signed an order Friday permitting eight hundred thousand young illegal aliens to remain in the U.S. He argued that as a practical matter it's impossible to move eight hundred thousand people to another country. That is not true, Mexico did it.
President Obama attended a fundraiser at Sarah Jessica Parker's New York townhouse Thursday. The celebrities in Hollywood see Obama as one of their own. That's why they all donate to his campaign through PayPal so he doesn't have their credit card information.
Oklahoma City residents were startled Thursday to feel a moderate-size earthquake that was centered in the outlying suburb of Del City. It appears to be a sign of the times. The economy is so awful in California even the earthquakes are moving back to Oklahoma.
The White House revealed details of accusations against Secret Service agents. They include hiring hookers, heavy drinking, and using office computers to view porn. That's why the Secret Service just made Money magazine's list of Best Places to Work in America.
Lance Armstrong denied charges by the World Anti-Doping Agency Wednesday that he used steroids. He's got the stopwatch on his side in this controversy. We all know that it's perfectly natural to be able to pedal faster over the Alps the closer you get to forty.
Guantanamo Bay completed renovations on our terrorist prison Friday. They got new soccer fields, pool tables and more cable channels. We allowed the prisoners to choose between having wives and having a great TV sports package and the vote wasn't even close.
Italy's Let's Pizza announced it will open Let's Pizza vending machines in the U.S. The dough is tossed, shaped, covered and cooked inside the machine in three minutes. This is just another example of a coin-operated machine doing the jobs Americans refuse to do.
The New York Times reported Friday Mexican drug cartel money is being laundered through horse racing tracks and thoroughbred farms. It's an old story. It's not widely known that Mr. Ed was put down by the cartel after he ratted out Wilbur to the grand jury.
Mitt Romney's campaign bus circled the park where President Obama was giving his speech on the economy in Cleveland Thursday. The bus repeatedly honked its horn while the president tried to give his speech. The Democrats were absolutely sure it was Mitt Romney's bus because they'd taken the greyhound off the side and tied it to the roof.
Argus Hamilton brings an unusual perspective to the news from Washington and around the country. "I'm an English Monarchist and a Southern secessionist," Argus says. "Let's see Rush Limbaugh get to the right of that."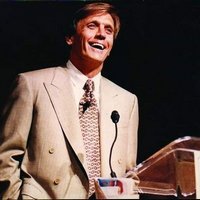 Latest posts by Argus Hamilton
(see all)