Listen carefully and you'll hear something you didn't hear at the 2010 World Cup…the sound of silence. As many will remember, the plastic horn known as the vuvuzela was the bane of the World Cup and had many fans ready to tear their hair out trying to focus on their favorite teams, only to go bonkers over the noise of the horns.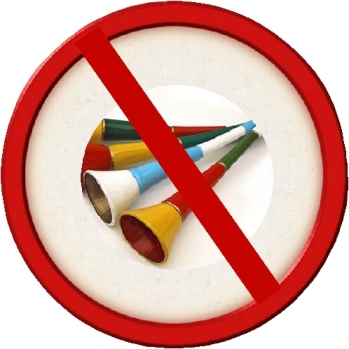 As a result of the ban, China has lost millions of dollars and has had to melt down the leftover vuvuzelas they were hoping to sell at the 2012 Olympics. The molten plastic will eventually be used to make an over-abundance of cheap toys for the upcoming holiday season, but officials say it won't nearly make up for the amount of money made at the 2010 World Cup.
Street vendors in London say it may be months before they can get their money back from the manufacturers in China, claiming they (the manufacturers) knew of the ban long before they sold the worthless horns to unsuspecting vendors.
"It's a pretty bad situation when we can't even get the Americans to buy them anymore," said Yu Su Mi, an export official for the Chinese Commerce Commission.
Funny video — Hitler and the vuvuzela at the 2010 Fifa World Cup:
Latest posts by P. Beckert
(see all)