"Mitt Romney joins other observant Mormons in shunning alcohol and caffeine."
— Associated Press, August 18, 2012
In an effort to jolt President Obama's reelection hopes, Democrats are making an issue of Mitt Romney's aversion to caffeine. In the kickoff of a strategy that has reportedly been brewing for months, Obama campaign strategist David Axelrod questioned Mr. Romney's stamina.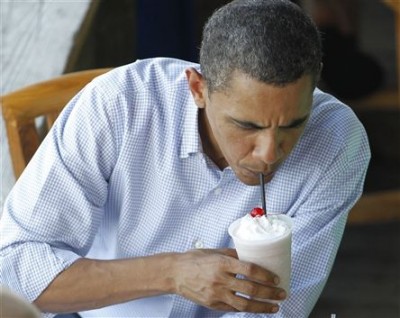 "I know of several instances when President Obama was awakened at three in the morning to deal with a crisis, and immediately downed a cup of coffee," Mr. Axelrod said on MSNBC's Morning Joe. "What would a President Romney do to stay sharp in a similar situation? Throw cold water on his face?"
Concern about Mr. Romney's energy level was also voiced by former President Clinton. "No president, not me or anyone else, could stay alert during a snore-a-thon budget meeting, or one of Netanyahu's monologues about the West Bank, unless they were fully caffeinated," Mr. Clinton told CNN's Wolf Blitzer. "I can't tell you how many times I found myself nodding off while meeting with Gore, even with the help of a double-espresso."
In an attempt to put the caffeine controversy to bed, Mr. Romney called a five a. m. press conference at a Bally Health Club in Florida. "If President Obama needs artificial stimulants to to do his job, that's his prerogative," Mr. Romney said, while leaping onto an elliptical machine. "I get my energy from my family, my country and my job Creator."
President Obama indirectly referenced the caffeine issue on the campaign trail. "I believe in an all of the above strategy to energy production," the president said, while visiting Carl's Coffee Shop in Youngstown Ohio. "We need to develop a combination of coffee, energy drinks, like Red Bull, and all-natural alternatives, like Jamba Juice."
The president later had an embarrassing moment, when he asked for a latte with sugar-free soy milk, from a befuddled waitress. Campaign aides quickly jumped in to order the president a regular coffee with Splenda.
There was also bad news for the President from Donald Trump. Appearing on Fox and Friends, the real estate mogul caused a stir with a sensational claim. "My investigators have revealed that the White House will only serve Starbucks' Kenya Coffee at state dinners," Mr. Trump said.
White House spokesperson Jay Carney denied Mr. Trumps allegation. "White House coffee is made from beans grown in the first lady's garden," he told reporters, while holding up a two coffee cans: one labeled "Barack's Brew" and another labeled "Joe's Jo."
Caffeine was the subject of more mud throwing, when Congresswoman Debbie Wasserman-Schultze accused Paul Ryan of sponsoring legislation that would make it illegal for pregnant women to drink caffeinated beverages. "Under the guise of protecting the fetus, Congressman Ryan would deny women access to caffeine and take away the health care they would need to treat withdrawal headaches," she said while appearing on Meet the Press.
Paul Ryan responded to a reporter's question about the legislation, while campaigning in Pennsylvania. "Any prohibition on stimulants for pregnant woman would carry an exception for the health of mothers suffering headaches from caffeine withdrawal," he said. But the Washington Post subsequently reported that Mr. Ryan's bill would restrict medical options for women suffering from withdrawal symptoms, to drinking caffeinated tea – an apparent concession to the Republican base.
Vice President Biden got into the fray while campaigning in Virginia. "Under Romney-Ryan, Barista College graduates would be saddled with punishing debt and tip jars would be taxed at a higher rate than capital gains," Mr. Biden said to supporters, gathered in front of Virginia University's Sleep Disorder Center.
"And that's not all. They have a secret plan to eliminate coffee cake from food stamps. The one-percent would have all the caffeine they needed, while the rest of us would be left walking around like zombies."
Romney campaign spokesperson Andrea Saul responded to the vice president's remarks. "Once again, Joe Biden is spreading lies about what Governor Romney would do as president," she wrote in an e-mail. "Based on his performance during this campaign, it is clear that the vice president has been enjoying way too much Irish coffee."
A version of this essay appeared in the Pittsburgh Post-Gazette on September 16, 2012.