New Yes Men movie to combine entertainment with activism on the issue of climate change
The Yes Men, kings of big pranks pulled on corporations — usually by fooling the media into covering their latest practical joke — are making a new movie, The Yes Men are Revolting. The film uses humor and disruptive action to focus on climate change, the corporate money that keeps the government from addressing it, and a movement that can "take our democracy back."
The Yes Men describe themselves as "Impersonating big-time criminals in order to publicly humiliate them, and otherwise giving journalists excuses to cover important issues." Lately, they've been focusing on the "Yes Lab," which helps activists use creative techniques to promote change.
The Yes Men say their new movie "will launch our most ambitious plan ever: a platform to turn every viewer's enthusiasm and energy into action around these these life-or-death issues and more."
They are working on securing funding for the movie and action platform with a crowdfunding campaign on Kickstarter, and are asking for fans and fellow activists to help spread the word.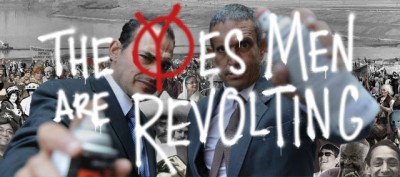 When you pledge to the project, they promise "a whole host of unique rewards" — including a "Secret Decoder Ring" that's loaded with media, and an access code to "secret communications." They are also offering some "more practical rewards" — like a "Halliburton Survivaball" (photo below), "essential for surviving imminent climate catastrophe."
"By pledging, you will be making possible a very funny film about our action-packed mission to hold governments accountable despite overwhelming corporate influence," the Yes Men promise. The film is said to have "hilarious exploits, shocking documentary footage, nasty stings on evildoers, and a personal story that's sure to keep viewers on the edge of their seats."
A truly unique thing about the film is that at the end, it provides a human-staffed platform to "help every viewer get active themselves." Their "Action Switchboard" — which they're designing in cahoots with Mozilla — taps a 100,000-activist database to create "fun, meaningful, movement-building projects around the issues we all care about."
A weird, funny "direct action" video from their Kickstarter page is posted above.
The Yes Men can be found on Twitter @theyesmen, and they are using the #revolting hashtag to promote the movie.
You may visit the Kickstarter page at http://www.kickstarter.com/projects/1194236337/the-yes-men-are-revolting.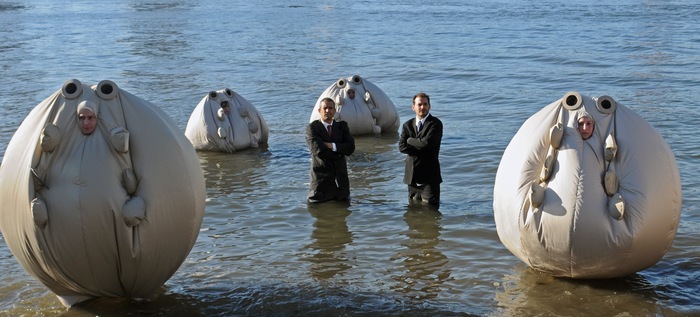 The following two tabs change content below.

The
Humor Times
is the "World's funniest news source!" Sure, we like to inform our visitors, but in a playful sort of way. We believe political satire is one of the best ways to help folks let down their defenses and see things in a new light, as well as to help bring haughty leaders back down to earth. Plus, it's just plain fun! The
Humor Times magazine
(delivered to your door 12x/year) is a great way to enjoy this brand of humor, it makes a wonderful gift, and
SUBSCRIPTIONS
are very affordable!

Latest posts by Humor Times (see all)