Podcasting comedy duo "Throwing Shade" plays the east coast for the first time
The provocative podcasting duo "Throwing Shade" just played the east coast for the first time, but even if you live here you probably missed it. The Philly show sold out the day after tickets went on sale. When The Arts Bank added an extra show, that one sold out in an hour.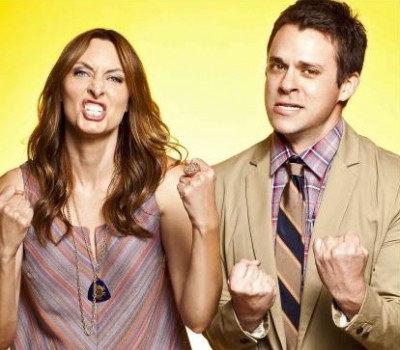 Their New York City gig sold out within an hour too.
So what the hell is "Throwing Shade" and if they're so popular, why haven't you heard of them?
"Throwing Shade" is two 30-something comics, Erin Gibson and Bryan Safi. She's straight. He's gay. They're pals. Once a week they get together and riff about current events, politics, pop culture and sex. They're quick-witted. They're well-informed. And they're funny when they're angry.
What ticks them off? Homophobia. Stupidity. Hypocrisy. Sexism. (This means they're never going to run out of material.) TS is neither fair nor balanced. If you're anti-woman or anti-gay, they'll take you out.
Before Gibson and Safi were a duo, both were regulars on "Infomania," a news-oriented comedy show that aired on Current TV. Safi did "That's Gay," a deadpan commentary segment that tracked gay culture and heaped scorn on the homophobic. Gibson's segment, "Modern Lady" was both feminist and funny.
Each is amusing alone, but together they're the comedy gold that happens when two quick wits inspire each other.
Think Nichols and May, but straight and gay.
The pod cast, loosely scripted and largely improvised, lasts an hour and covers a lot of ground, from topics like the Mormon feminist "Wear Pants to Church" movement to a take-down of gay-haters on Twitter. And it's definitely the place to go if you want to hear a humorous deconstruction of the homophobic remarks of Victoria Jackson.
Gibson and Safi, like Jon Stewart and Stephen Colbert, use comedy to skewer current events. But they explore their personal lives too. When Erin and Bryan talk sex, they're at their best. Observing absolutely no boundaries, they gab graphically and without reservation about the kind of thing you'd be deeply embarrassed to whisper to your best friend. The result is often tacky, lewd and unbelievably filthy.
In a good way.
When I heard TS was coming to Philly, I got tickets to both shows. I was curious to see how scripted the hilarity actually was. (The second time I saw my OTHER favorite comedy duo, Paul and Storm, I realized that much of the "improvised" patter that had cracked me up the first time I saw them was actually carefully scripted.)
There was no script. Safi and Gibson brought a few notes onstage, but, mostly they were winging it. Improvising on topics from visiting the Liberty Bell to riding a rolling suitcase over a hotdog on the Market Frankfurt line, they delivered two solid (and completely different) sets. Erin even kept the locals laughing through a bit about her elevated cancer risk and preventive double mastectomy, which is, to put it mildly, a challenging topic for comedy.
"Throwing Shade" returns to the east coast in April, so if you live here you've got time to play catch up. The pod cast is available for free online. Check it out. If it doesn't crack you up, your sense of humor needs an upgrade.
If it does, I'll see you in the audience in April.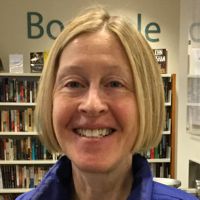 Latest posts by Roz Warren
(see all)