"Green" festivals have whole new meaning in pot legalization era
The First Annual "Pot and Bongo Festival," to be held this year, is expected to draw huge crowds from all over the world.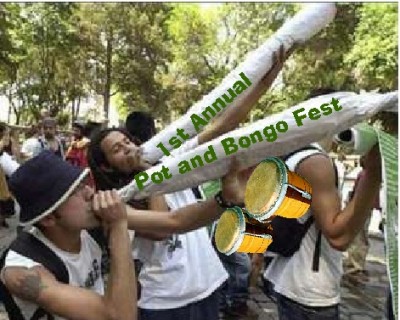 "Since this is the first festival in the country featuring legalized marijuana. We can't put a figure on attendance, but assume it will become one of the most popular festivals in America's history," said Bud Harkins, one of the key organizers of the festival affectionately nicknamed "Pongo."
Harkins claims the festival was the brainchild of his father, Capt. John "Feelgood" Harkins, head of Har-Grow Marijuana Fields in Oregon.
"My father had a dream that one day marijuana would be freely used all over the world, and this festival is a tribute to Capt. Feelgood," said proud son Bud, who says his father passed away a year ago in a freak tractor accident. It just so happens the festival is scheduled to run on the anniversary of his death.
Marijuana from the Har-Grow farms will be freely flowing, and attendees will have a chance to enjoy many foods laced with the versatile herb, including marijuana ice cream, pot brownies, apple pot tarts, and more.
Musical guests headlining the event include Roger Waters and David Gilmour of Pink Floyd, reuniting in a rare appearance together on stage, as well as Donovan (Mellow Yellow), the Beach Boys, and the Four Tops and Temptations, who will announce a super special guest sometime in the near future.
It is also rumored that actor Matthew McConaughey will join Todd Rundgren on Sunday for a special rendition of Bang the Drum All Day. Participants are encouraged to bring their own bongos and join in the fun. They are hoping to break a world record for most bongos played in one place.
Rainbow Kitchen Commune will provide some yummy vegetarian treats at no cost. You are encouraged to wear your tie-dyed t-shirts, bell bottom blue jeans, and flowers in your hair for one of the best parties this side of Woodstock.
So mark your calendars and buy your tickets early because they are expected to sell out at a record pace.
Harkins wants to remind everyone that the Pot and Bongo Fest is not a smoke-free zone, as long as the smoke is herbal.
Security will be provided by the Hell's Angels.
The following two tabs change content below.
P. Beckert's is one voice vying for frequency room at the top of the opinion dial. Angered and bewildered by many of today's events, P. Beckert uses humor as a tool to fight an onslaught of stupidity and ignorance that seems to permeate the airwaves and pollute the sensitivities of a once-brilliant nation. If you like her posts, become a follower and leave a comment. And don't forget to share on Facebook, Twitter and other social accounts! Syndicated from her
I Said Laugh, Dammit
blog.
Latest posts by P. Beckert (see all)