Journal entry:  September 28, 2006 (age 37)
Some professional performers are called "triple threats," because they are accomplished actors, singers and dancers.  I'm more like a non-threatening bunt, because I can do an impression of King Friday from Mister Rogers' Neighborhood.  With singing auditions coming up at the Endicott Performing Arts Center and the Cider Mill Playhouse, I decided to "seek professional help," albeit of a different sort than is usually suggested to me.
Luckily, our area offers experts in almost every conceivable field.  If I were seeking training in the martial arts, I would contact Hidy Ochiai.  If I were training to become an anthropomorphic sports marketer, I would contact the Binghamton Mets' mascot, Ballwinkle (although I fear Ballwinkle and I would get bogged down discussing the medical ethics of cross-breeding a moose with a baseball).  In the world of singing, we have the world-class Tri-Cities Opera, and many talented singers in every genre.
My musical tastes run toward pop and folk, so I looked up our area's nationally recognized recording act, the Burns Sisters Band.  I own a few of their CDs, and have seen them in concert.  I love their intricate harmonies and their socially conscious lyrics.  In short, I'm a fan.  I visited the band's Web site and saw that one of the sisters, Annie Burns, offers singing lessons.  I immediately sent Annie an e-mail and set up my first lesson.
Annie teaches in a small studio at Hickey's Music Store in Ithaca.  She's been helping me work on songs from one of my favorite musicals, Pippin.  I bought a recording with the vocals removed, so when I warble my way through "War is a Science," Annie can picture herself on the eighth plane of Hades, which is reserved for bad karaoke performers.  Actually, I don't do too badly on that song, but I definitely push the limits of listenability when I hit the Bee Gee-wannabe notes of the ballad "With You."
But at today's lesson, I decided to try something new.  Abandoning all pretense of being there to actually learn, I gave myself over to unabashed fandom.  I handed Annie a copy of her solo CD, Days in Italy, and stammered, "Can I, um, sing something with you?"  I told her that Days in Italy is one of my favorite CDs, and that I consider it to be one of the best albums by any artist in the past decade.  Annie was a bit taken aback by the gushing praise.  She cocked her head and squinted her eyes at me, but then smiled and put the CD in the player.
The 4 minutes and 53 seconds that followed will shine in my memory for a very long time.  We sang my favorite song from the album, a gorgeous elegy called "John of Dreams."  I felt like I was singing "Summer Wind" with Sinatra, or "Here Comes the Sun" with George Harrison.  For Annie, I imagine it was more like being joined by Roseanne Barr on the national anthem.  But I was completely jazzed.  On the drive back to Binghamton, I kept tapping the steering wheel and muttering, "That was really, really cool."
The following two tabs change content below.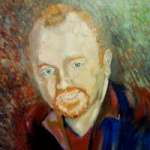 Buy your copy of "Lost Journal - the Book" at
www.timmollen.com
. Each Lost Journal column is a journal entry written in retrospect. In other words, Mollen chooses a different day from his past, and writes about it as though it were today. The date may be last week, Halloween 1980, or the day he was born (May 4, 1969). Some of you may be asking, "But how would he have been able to write a journal entry on the day he was born?" To you he says: "Lighten up. It's a humor column." Mollen is a nationally syndicated columnist and actor, and he is available as a speaker on writing and humor.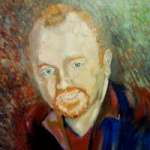 Latest posts by Tim Mollen (see all)