A performance by Eric Holder and his all-star cast that America won't soon forget
In theaters now! If you liked Ben Stiller and Vince Vaughn's performance in the original 2004 sports comedy, "Dodgeball," then you are going to love Iron E-Media's latest release: "DOJBall," starring Attorney General Eric Holder.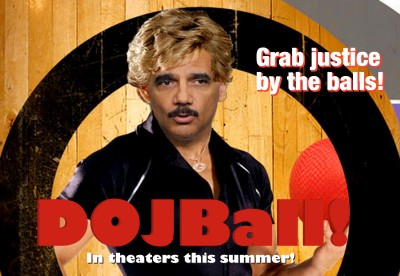 With such memorable lines as, "No one makes me police my own policy!" and "If you can dodge justice, you can dodge a ball," this summer movie is sure to be a classic.
"DOJBall is a hit!" raves New York Times reporter David Sanger.  "You'll laugh, you'll cry, and, more importantly, you'll want to get out there and dodge some justice!"
With stellar supporting performances by president Obama and Jay Carney, this film has all the magic of past movies such as "Watergate" and "Contragate", but hasn't received near the media hype and attention that it deserves.
Nevertheless, ticket sales are up and early indicators show that  this cast won't be dodging stardom anytime soon.

Latest posts by Jeff Boldt
(see all)