Kim and Kanye: "At least we didn't name it 'North By Northwest'!"
Kim Kardashian and Kanye West, forever in the public eye (somewhere between the iris and the cornea), recently announced the birth and name of their daughter.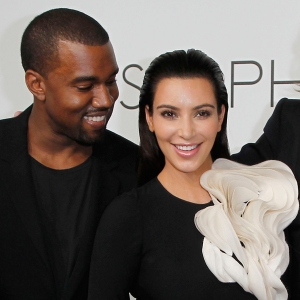 According to our inside sources, the happy couple, because of their aspirations for their daughter to be a global citizen, finally settled on a type of name relating to maps.
But, after realizing that their favorites–Longitude, Latitude, and Northern Hemisphere–were taken, they eventually went with her official name, North West.
For those who would cry foul and accuse Kim and Kanye of being just another celebrity couple who are parenting their kid for the press and media attention and not actually in the interests of the child, you are obviously not thinking this through.
The answer is solidarity.  If celebrities start naming their kids normal names now, then what about all the other kids with crazy names?  This will clearly ostracize these little ones and fill the courts with children attempting to change their name.  Is that what we want?
I think we know the answer.
So, for the sake of the children (and lots of tax dollars), good on Kim and Kanye.  For when their child star sits in their very expensive private school seat and has their name called, they will feel nothing but warm camaraderie and kinship as they hear other unconventional names.  Names like Apple, Grass, Teleprompter, and Yes.


Latest posts by Jeff Boldt
(see all)