The gift that keeps on giving, all year long: The Humor Times magazine is available by subscription all over the world, in print or digital format – It's the best gift idea for lovers of political humor!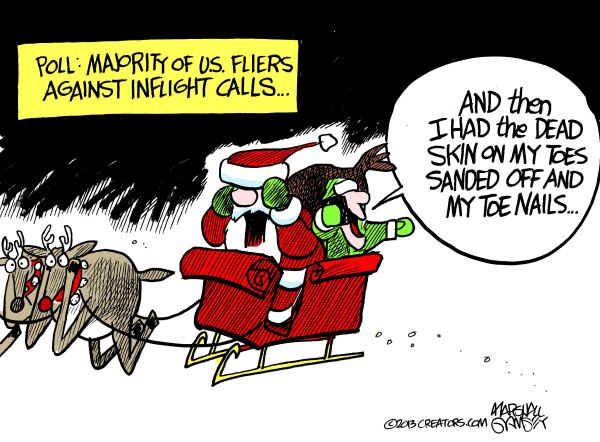 The Humor Times monthly magazine is the perfect cure for an unfunny world. Indulge yourself with laughter – widely known as the best medicine for anything that's getting you down! In fact, SUBSCRIPTIONS are so cheap, they make an excellent gift idea — the price is almost a joke in itself!
We feature the best work of the world's finest editorial cartoonists, who give their  hilariously irreverent take on what's happening on the world stage.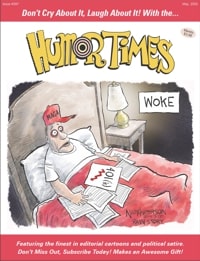 We bring you many different types of cartoons by other great artists as well, such as Dan Piraro's Bizarro, Mike Baldwin's Cornered, Ruben Bolling's Tom the Dancing Bug (a full-page strip that approaches politics from many creative angles), and much more.
And we publish the best in humor columns, such as Will Durst's hilarious political observations, Jim Hightower's Hightower Lowdown and Argus Hamilton's take on the daily news. We also feature an uproarious Faux News section! (If you like the Daily Show or The Onion newspaper, you'll love our fake news!)
You can't miss with this great way to lighten up your world! There's nothing like having such a unique, entertaining publication in your hands to share with friends! (Also available as a downloadable online edition – at half the price!)
The Humor Times makes a wonderful gift idea – one that keeps your friends and relatives laughing all year long!!!
Click here to order a FREE sample copy of the Humor Times ($1 shipping & handling charge in the U.S., $3 anywhere else in the world) or here for information on how to SUBSCRIBE!
Here's a back issue from a few months ago in "Flip Page" format you may peruse, free (This is the downloadable online edition, with every page in color. The printed edition does not have as many color pages):