Jon Stewart says he is now rich enough to own himself.
The Daily Show is one man poorer this morning with the announcement that Jon Stewart is now rich enough to own himself and is quitting Comedy Central and the Daily Show with Jon Stewart.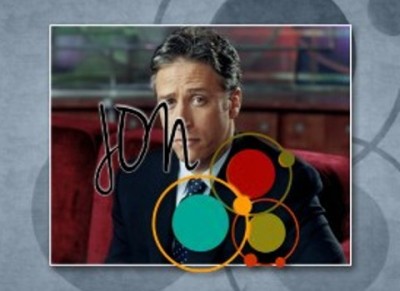 Following in the footsteps of Oprah Winfrey with her development of her OWN (Oprah Winfrey Network) cable television network, Stewart has decided to start the JON (Jon's Own Network) cable television network, which should be up and operational by the end of April.
A spokesperson for HBO, owners of Comedy Central, where Jon Stewart has honed his craft as the top parody news show host on cable for the past 15 years, claims this move wasn't really a shock for anyone.
"Jon has been talking about going solo, or should I say, bigger, for about a year or so now," said Sheldon Finkelstein, programming director at Comedy Central and shareholder in the new JON venture.
Although Stewart's net worth, hovering around the $80 million mark, is nowhere near Oprah Winfrey's estimated $2.9 billion net worth, Stewart claims at the rate he was going, he would have had to be 147 years old to do anything on the grand scale of Oprah's network.
That is why he is starting small.
"I'm taking Colbert with me," said Stewart, speaking of course about Stephen Colbert, the other side of the hilarious Coin 'o Comedy, as he sometimes refers to Colbert and himself.
"Do I want Colbert on my team?" asked Jon. "Well, let me put it this way," he answered his own question with the now-famous quote by Mario Puzo, i.e. "Keep your friends close, but your enemies closer."
Because Comedy Central owns the rights to Stewart's name outright, and he can't buy his name back with the paltry amount he has in the bank, Stewart plans on changing his name to simply JON.
"It's a gamble," said the multi-talented comedian, writer, actor, and now owner of himself, "but in the long run, it's something I felt compelled to try."
Jon went on to say that he and Colbert had been planning this for quite some time, and with their combined net worth, they think they have a real shot at giving Comedy Central a run for its money.
"In the end," said Stewart, "it's not about making people laugh so much as it is a matter of pride.
"At what point do we ask ourselves, 'really? A black woman is one of the richest Americans on the planet?'"
Latest posts by P. Beckert
(see all)