Scientists discover surprising cause of massive Yellowstone eruption
The Weather Channel's "Forecasting the End" had predicted a disaster, and it has come to pass. Now scientists have found the cause of the recent cataclysmic volcanic eruption in Yellowstone National Park.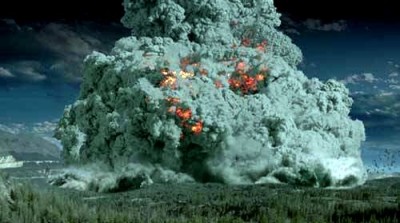 First, the park rangers noticed that the amount of water spewing out of Old Faithful was becoming less and less each day until it stopped completely. A week later the earth around the area began to rumble and then a massive volcanic eruption took place about 20 miles away, shaking the ground for several states and spewing ash that blackened the air as far south as Mexico, west to Hawaii, and across the East Coast.
Wearing special hazmat suits, scientists were finally able to enter the area and inspect where the former Old Faithful once existed in Yellowstone. What they discovered was that Old Faithful's inability to blow out the pressure created tremendous pressure across natural underground tunnels, causing the volcanic eruption many miles away.
Because Old Faithful did not erupt, the scientists were able to enter the opening and discovered the cause of the blockage. The culprit was Yogi Bear, who had filled Old Faithful to the brim with stolen pic-a-nic baskets!
The FBI is investigating a possible conspiracy between Yogi Bear and the Weather Channel, especially since the Weather Channel's ratings have sky rocketed and Fox has offered Hanna-Barbera a six figure contract to bring back Yogi.
The FBI was tipped off by an inside source, which many believe was Yogi's pal, Boo Boo.
The following two tabs change content below.

Diane de Anda
Diane de Anda is a third generation Latina and retired UCLA professor. Tired of cranking out technical articles in a "publish or perish" atmosphere, she now spends most of her time writing adult fiction, children's books, parody, and satire. Her weapon of choice is the limerick, aimed with humor and a touch of malice at society's icons, celebrities, politicians, and other irritating folk.

Latest posts by Diane de Anda (see all)