New Star Wars could launch post-presidential career
"Not long ago, in a galaxy far, far beyond the reach of justice and peace, a strange and bitter conflict arose on the dark and inhospitable planet known as Yemen."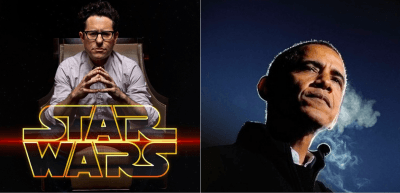 So begins the highly anticipated JJ Abrams continuation of the intergalactic epic, Star Wars, and, along with it, the continuation of a worldwide love affair with Wookies, droids, Ewoks, bounty hunters, and the like.
With some of the casting of episode 7 already released, Abrams kept the lead roles and the title of the movie cloaked in mystery…until today.
"I've had my eye on the president for a while, actually," the famed director admitted.  "Politicians are natural actors, which is why so many of them have made the transition from the studio to the hill so seamlessly."
"G-dub will be reprising his role as Darth Bush and Cheney will return as Emperor Buckshot, of course.  Now, what I love about Obama's role in this new Star Wars is that it is not at all one-dimensional.  Basically, as a young Jedi, he (Obama Peacemaker) rises to power on the back of idealistic promises and is even awarded the Galactic Peace Prize.  But then, when he fails to fulfill those promises and even expands the evil of Darth Bush (which he vowed to eradicate), he gives in to the dark side."
"I don't want to give too much away but my favorite scene is where Darth Barack — deep in the recesses of Gitmo (an alien torture chamber) — rises from the shadows with 'kill list' in hand, and declares war on the hapless planets of Pakistan and Yemen."
Asked if episode seven will be able to live up to the hyperdrive level of expectations, Abrams was confident but calculated.
"There's a lot of great backstory here that hasn't been developed and that the public is completely unaware of.  Let me just say, I'm really excited about it."
In other words, it's gonna be the sh–.

Latest posts by Jeff Boldt
(see all)