"As far as I'm concerned, Caitlyn Jenner is no different than Hulk Hogan." – Brian "Bub" Sisler
Bruce Jenner recently unveiled himself on the cover of Vanity Fair magazine as a transgendered woman named Caitlyn Jenner. The reaction to Jenner's magazine cover was nothing short of controversial, garnering everything from support to criticism. However, 47-year-old lifelong pro wrestling fan Brian "Bub" Sisler (he told this writer that I can call him "Bub") doesn't understand what all the fuss is about.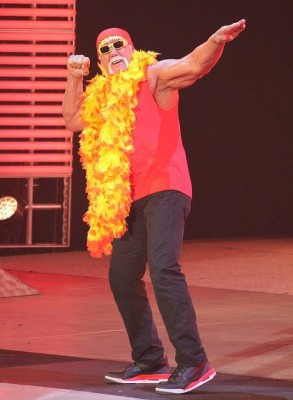 "Pro wrestling is considered a man's sport, but it also has a history of androgynous characters like "Gorgeous George" and "Adorable Adrian Adonis," Bub said.
"Even multiple-time world champion Ric Flair wore a sequined robe to the ring, just like Liberace did when he performed, and Liberace was gay. George and Adonis wore women's makeup and acted feminine in the ring. It's really not a big deal."
Bub explained that one of the most popular wrestlers in the world, Hulk Hogan, wore a feather boa to the ring. "If the man with the largest pythons (Bub explained that's what Hogan nicknamed his biceps) in the world can act just a little feminine, then who I am to judge? As far as I'm concerned, Caitlyn Jenner is no different than Hulk Hogan," Bub explained.
Bub told the Humor Times that he sometimes acts out his "dream matches" with his collection of wrestling dolls. "I know you'd never think you'd see a match between 'Stone Cold' Steve Austin and 'Macho Man' Randy Savage!" he said while holding the dolls of the aforementioned wrestlers' likeness. "But I can live out my wrestling fantasies right here in the comfort of my own home. That's how I live my life, and Caitlyn Jenner has every right to live hers!"
Upon finishing this article, Bub notified this writer that he had scored two wrestling dolls named Billy and Chuck, who in pro-wrestling storylines were in a homosexual relationship and were set to have a gay wedding on pro-wrestling television that got interrupted by "the bad guys." Bub stated in an email that he "hopes to continue the storyline romance in the form of these action figures, but we'll see how this plays out. If they ever come out with a Caitlyn Jenner action figure, maybe she can be the guest referee at their WrestleMania match!"
The following two tabs change content below.

Comedian, satirist, comedy writer. Founder of The Heathens of Comedy Tour.