Bestselling Donald Trump erotica series comes to a screeching halt over confusing grammar rules
HUNTINGTON, WV — Herbert "Herbdawg" Adkins' bestselling Donald Trump erotica series of books came to a screeching halt today, when he got confused over the word usage of "their, they're and there."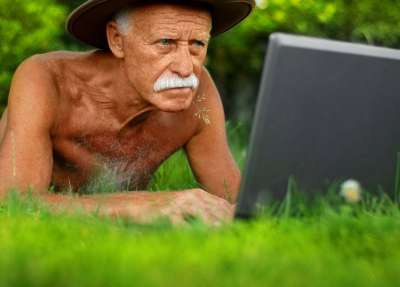 This comes at a troubling time when West Virginia native "Herbdawg" Adkins is writing is most challenging piece of literature yet, the Donald Trump erotica themed coal mining book "Mine Inside Me."
"There, their and they're are like the same words, but spelled diff'rent," Adkins said. "I got a deadline to make, and if I can't fig're 'dis out, them editors will have my hide."
"Herbdawg" tells the Humor Times that Mine Inside Me is about an unemployed coal miner's love for President Donald Trump, and how Trump's promises of bringing coal jobs back to the state of West Virginia brought the two close together over a series of emails.
However, "Herbdawg" hit a snag during the writing of a pivotal scene in his book. "I got to the scene where Trump 'n the miner meet, Trump still has a coal mining helmet on from one of his rallies, 'n the miner is just wearing coal dust 'n a smile, and Trump is all like, 'That's a beautiful smile you got they're. Just beautiful. The most beautiful smile in America.' I looked at the word 'they're' and it sounded right but looked wrong, ya know?" Adkins said.
"Herbdawg" will meet with his team of editors over some Little Debbie cakes and heroin over the next several weeks to discuss the future of his latest book. Meanwhile, you can still enjoy his works of Donald Trump erotica with his past titles including "Sugar, Spicer and Everything Nicer," "She Likes It the Con-Way," "Repeal, Replace, Romance," and the bestselling "Putin Your Hand on My Heart."
The following two tabs change content below.

Comedian, satirist, comedy writer. Founder of The Heathens of Comedy Tour.