Other administration officials are not charmed by her Snapchat hobby, saying she "hogs the only White House cell phone."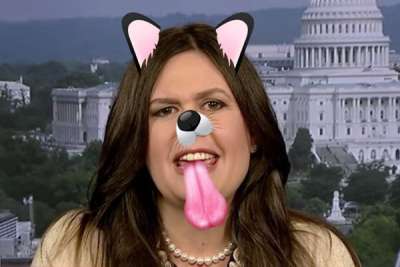 White House Press Secretary Sarah Huckabee Sanders is a busy woman these days. Taking over for the ousted Sean Spicer keeps Sarah very occupied, but she says she always has time to sit on her phone and play on Snapchat.
"I like these cute little animal filters. They always manage to perk me up after I wipe President Trump's spit from my face," Sanders said. "I think I look absolutely adorable!"
Although President Trump has banned smiles and happiness from the White House, his staff always manages to sneak a few grins on the photo app.
"Sarah usually hogs the one cell phone," a White House staffer told this reporter. "She's just a basic bitch who thinks she's hot shit," the staffer stated after requesting anonymity. "The one cell phone is our only connection to the outside world and she's over there trying to look like a stupid bunny rabbit!"