By Tim Mollen
Journal entry:  May 3, 1987 (age 17)
Tonight was the final performance of my final show as a student at Seton Catholic Central High School.  As the entire cast of Guys and Dolls gathered onstage to finally sing the finale, I looked around at all the friends I would soon be leaving behind.  For the first time in my life, I felt old.
I will miss standing in front of drab curtains hung with lopsided pictures that are meant to establish that the nearly bare stage is, in fact, a grand room in an ancient house.  I will miss squinting in the unnatural glare of hot footlights, which are basically big, bare light bulbs blocked from the audience's view by dented, tin boxes.  I will miss having cute, freshman girls put on my makeup.  I never cared that I ended up looking like a freshman girl myself by the time they finished gobbing on the pancake and mascara.  It was more important to my sense of masculinity that a real live girl had actually touched my face.
I will miss being in shows where people are, by necessity, cast completely against type.  What 16-year-old boy should really be playing the debonair Frenchman, Emil De Beque, in South Pacific?  "Some enchanted evening, you may see a wicked cool girl to hook up with."  What 15-year-old girl should be cast as the aging Widow Paroo in The Music Man?  "Gary Indiana – I think that's the name of my shop teacher."  In a high school theatre production, looks don't matter much, when compared to enthusiastic hamminess.  Thank God, or I would have spent most of my nights over the last four years watching "Mama's Family" or "Knots Landing."
That's not to say that kids with good looks don't get cast, too.  My first onstage kiss (who am I kidding – it was my first kiss, period) came from Kristy Tillis, my very pretty leading lady in last year's production of The Music Man.  And in the just-vanished Guys and Dolls, the lead role of Sky Masterson was played by my friend (and school heartthrob) John Ducey.  John, or "Duce," as we call him, was already one of the top students in our class and a three-season, star athlete.  This year, he decided to try his hand at acting and singing.  From the moment he belted out "Luck Be a Lady" in the auditions, I knew I wouldn't be the lead this year.  Instead I shared the secondary, comic role of Nathan Detroit (no relation to Gary Indiana).  That's OK – I got my laughs, and that's all I really wanted.
After the curtain fell tonight, I walked to the parking lot with my friend Missy, who played opposite me as Miss Adelaide.  We hopped into a car where Missy's mom, Mary Peg Mathis, was waiting for us.  Mrs. Mathis has been our beloved director all four years.  The big cast party was the night before, but tonight the three of us just wanted to drive around Binghamton, laugh about the show, and reminisce about the many that had gone before.  I wonder if the rest of life's good times will feel this sad.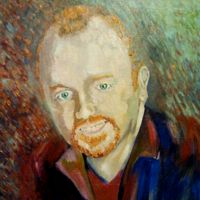 Latest posts by Tim Mollen
(see all)