Paula Poundstone is a brilliant humorist 'whose talents extend beyond standup comedy, but stop short of yodeling.'
Paula Poundstone brings her special brand of quick-thinking, unscripted humor back to Sacramento Saturday, Sept. 17 in concert at the Crest Theatre. Showtime is 8 PM. Tickets are on sale now at www.crestsacramento.com.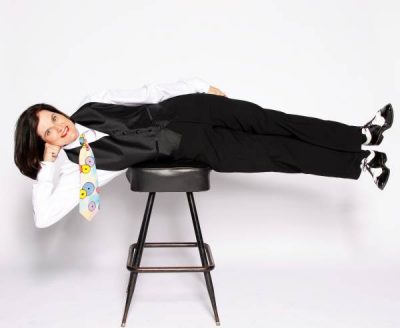 Heralded as one of our country's foremost comics, Paula's approach to comedy makes for a perfect fit as a regular panelist on NPR's #1 show, the screwball weekly news quiz show Wait Wait…Don't Tell Me! where she holds the record for game losses. "The others cheat," she says magnanimously, "you wouldn't think NPR would put up with that."
Paula tours regularly, performing standup comedy across the country. Writes Nick Zaino with the Boston Globe: "You know she's a great comic the way you know any fine performer when you see one — there's a disarming ease in her craft, an immediate sense that she's so quick on her feet you need never worry about the possibility of something going wrong." Paula's interchanges with the audience are never mean or done at a person's expense. She even manages to handle politics without provoking the pall of disapproval received by less artful comics. "With the exception of that one time," Paula claims.
The talents of this brilliant humorist extend beyond standup comedy, but stop short of yodeling. In 2016 Paula voiced the character "Forgetter Paula" in Disney/Pixar's Academy Award winning animated feature film, Inside Out.  In June 2016, her first double-live CD, "North By Northwest: Paula Poundstone Live!" (HighBridge) debuted at #1 on both Amazon's "Hot New Releases – Non Fiction" and "Comedy CD" lists. The CD was recorded at performances at the Big Top Chautauqua in Bayfield, WI and the Aladdin Theatre in Portland, OR. Says Paula, "It's a joyous romp through a field of cheeseheads and hipsters."
Paula is also an author. Her second hardcover book (Algonquin Books), will debut on May 9, 2017. An avid reader, Paula is a staunch supporter of our nation's libraries and in 2006 the American Library Association invited her to become the national spokesperson of United for Libraries, a post she holds to this day. United for Libraries is a grass roots support group with members across the country who raise much-needed funds for their local libraries.
In July this year, Paula appeared on the hit television drama, Major Crimes. She has also done commentaries for CBS Sunday Morning.
Paula has never been one to brag, "except," she says, "when I'm alone," but since this is her bio, and we are supposed to tell you something about her, over the years Paula has amassed a list of accolades and awards that stretch the length of a great big tall guy's arm. In 1992 she became the first woman to share the stage with the President and host the prestigious White House Correspondents dinner, a role not until then offered to a woman in its seventy-two year history.  Only four other women have followed in her pioneering footsteps.
That same year, she rocked the comedy establishment when her HBO special, Cats, Cops, and Stuff won the Cable ACE Award for Best Standup Comedy Special — the first woman to ever receive that award. Her second special for HBO, Paula Poundstone Goes to Harvard, was the first time the elite university allowed their name to be used in the title of a television show.
Paula is included in Comedy Central's list of 100 Greatest Stand-Ups Of All Time – comments Paula: "Especially meaningful because lots of other Neanderthals were overlooked" — and won an American Comedy Award for Best Female Standup Comic — Paula: "They ran out of people to give it to." She has guested on all the late night talk shows, several television specials, and Garrison Keillor's A Prairie Home Companion.
Still, Paula considers her greatest achievement being a Mom of 3 children. She lives in Santa Monica where she also has 2 dogs, 14 cats, and one ant left from her ant farm.